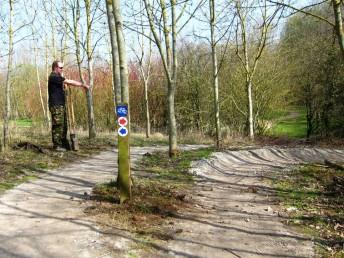 This was our last trail build day before our summer rest. We'd made excellent progress over the early part of 2012 and the new triangle section was finished. The plan was to do some minor jobs ready for the summer season. Upcoming events include our open day on the 1st April, the Prospect Ride on the 22nd of April and the Hargroves Demo day on the 6th May.
The layout of the blue route was also going to be changed – it was now going to join the main loop at the point where it used to finish. It would bypass the new triangle and have sign posted easy options round tricky features. This would take the blue route length up to around 4.3km (red loop 5.4km).
Jez and Kristian walked the trail lopping back any problem branches. Meanwhile Phil, Gary Palmer, Jason, Richard (not Barnett), Dave and myself (Tom) moved to the triangle to collect some sign posts. Whilst there we moved all the wooden off cuts from the new boardwalk into once central pile. Any stray storage bags, bits of drainage pipe and wooden markers were also rounded up. Dave did a bit of dusting (adding fine limestone surface to the trail, not cleaning it with a feather).
We added marker signs with red and blue options to the triangle split and confirmation signs after the exit.
John Speed and Andy Matthews joined us with a set of litter picking tools and bin bags. Kat had already cleared most of the trail on previous build days so most effort was put into the triangle. We'd removed rubbish from this area on every build day, most of it several years old. There was one remaining pile of general household rubbish and this was bagged up and removed.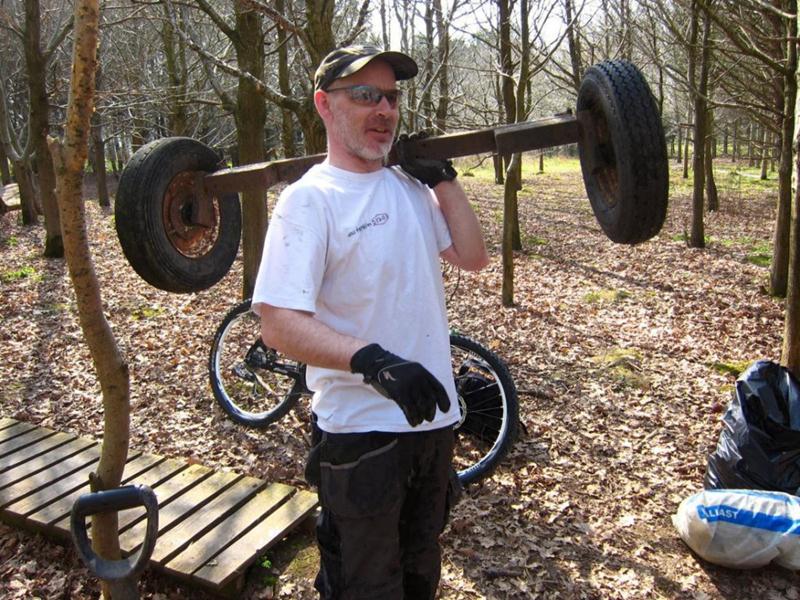 We moved onto Piper's hill for some more sign posting jobs. Chris (not Hopkinson) joined us for the afternoon. A more obvious bypass was built round the drop on the first part of Piper's hill. A wicker fence was built to discourage riders from taking a short cut near the entrance too.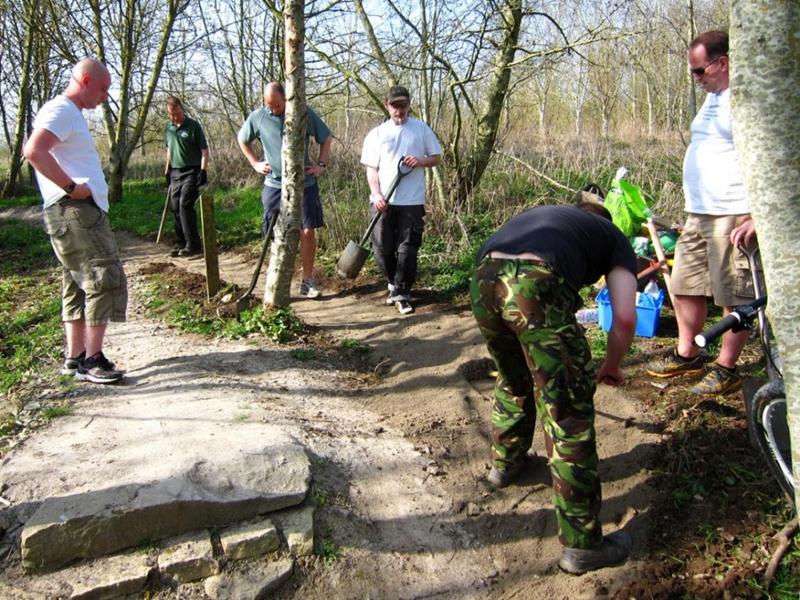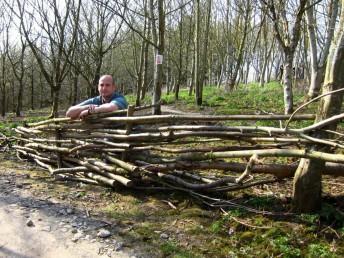 Sign posts were added next the log steps and drop on the second descent.
A few people walked the trail looking for any more litter.
Our last big job of the day involved joining the blue route onto the main loop. A short section was dug out and the last of the gravel in the area was used to fill it in. We were joined for this job by a rider who was passing who's name I've forgotten. Sorry.
Finally Phil and Kat walked the trail adding a few more blue arrows to various points.
Big thanks to everyone who has contributed to the trail building this year. We've achieved a lot and the trail is in great shape for the summer.
See our full build diary.