By Gary Palmer. Photos by Tom Stickland, Gary Palmer, Gary Yeates and Pete Toop.
I got to the leisure centre car park in Stroud at 9.30 ish and there were already some guys there. Keen me thinks.
The weather definitely looked like it was going to be kind to us. What a relief because this ride in the wet is nothing short of torture. It wasn't too long before there were 17 mountain bikers kitted up and ready to take off. Off we went through the streets of Stroud and up the Slad Valley.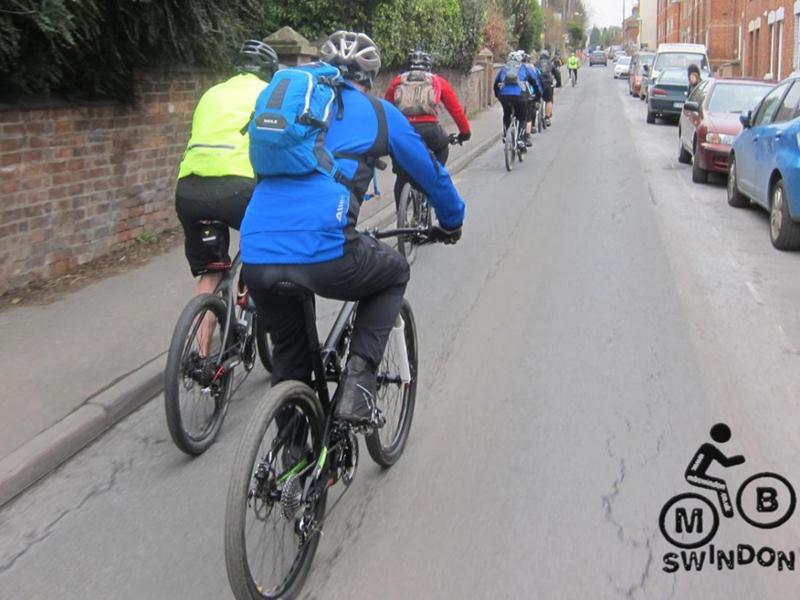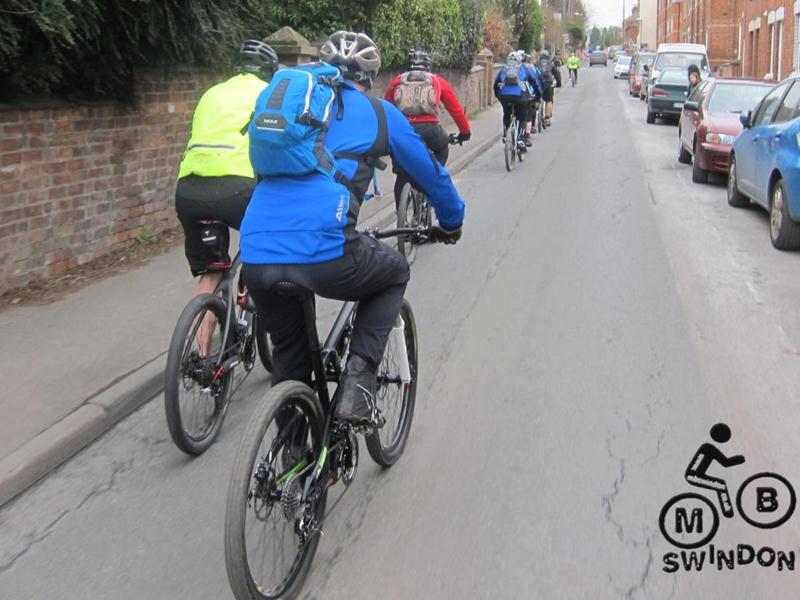 We climbed up a stony track and back out on to the Stroud to Birdlip road.  I knew this was going to be a boring old start to the ride but apart from getting an uplift (maybe next time) this was going to be the quickest way to get to the highest point.
At last we got into the woods just outside Birdlip and this where the fun would start. Off we went down some quite nice flowing single track and still managed to find some little uphill bits to keep the heart pumping. Half way along this section we came across our first bomb hole of the day where the braver members of the group threw themselves off and over the edge.
This self preservation kick of mine is getting out of hand at the moment, I was taking notes of how Phil seems to jump over or down everything. Just you wait till I get my automatic self inflating jacket.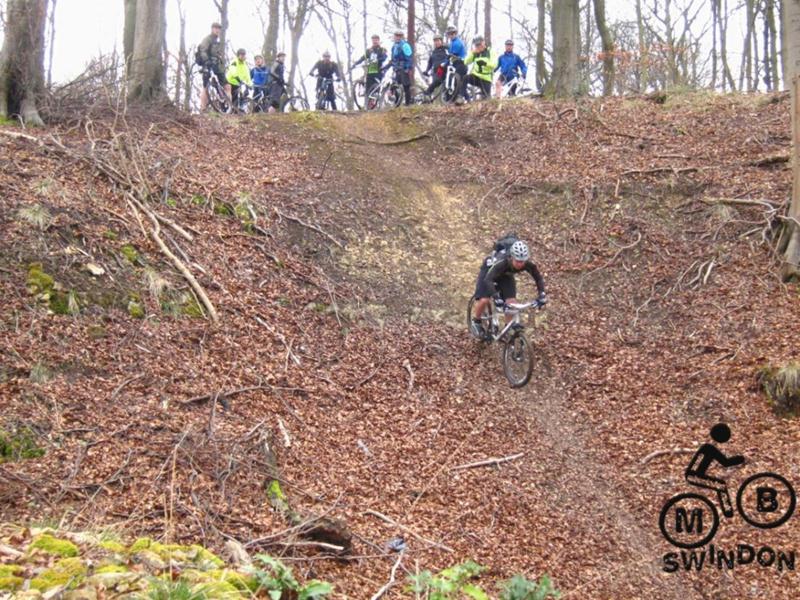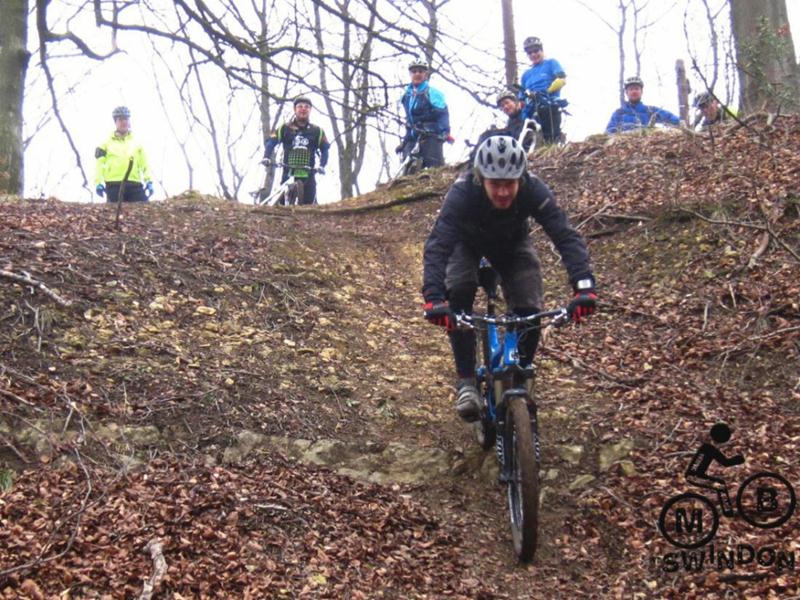 The next bit is one of my favourite bits: fast and twisty with a couple of bits where you can get some air between the wheels. We had a short wait at the bottom for a puncture and chain breakage.
Then all 16 of us started to make our way over to Cooper's Hill. There's a bit of climbing involved in this bit so I decided to stay well behind and make sure everybody made it (ha ha). When I eventually caught up I interrupted a lecture on the benefits of yoga and how it can benefit your mountain biking –  there were only 13 students asleep.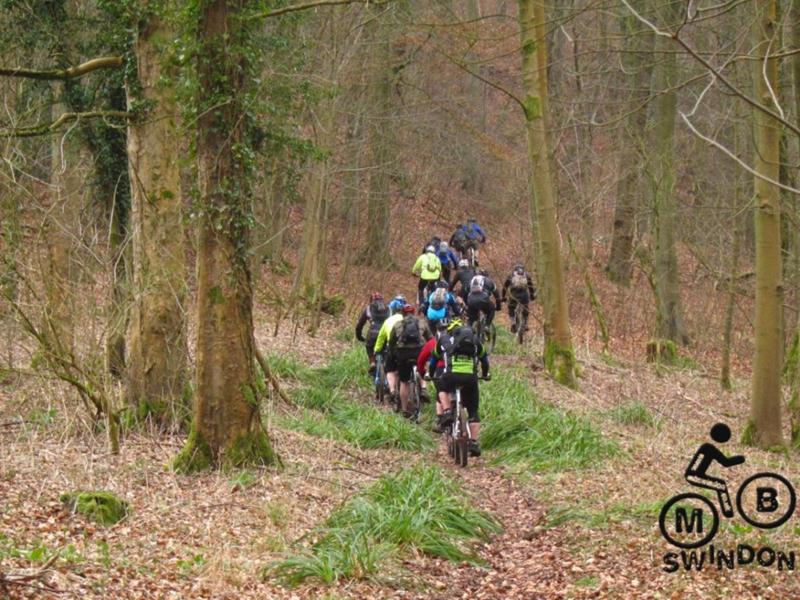 Off again, this section turned out to be quite boggy which I didn't mind seeing as three weeks before the whole ride was like it. We eventually arrived at Cooper's Hill where we stood on the edge and wondered why those crazy Gloucester folk throw themselves over the edge to catch a cheese. We would have given it a try but Jerome forgot to pack the Camembert.
The view here is quite dramatic and on a clear day you can see right across to the Malvern Hills, there was too much haze from the heat today but apparently they are still there.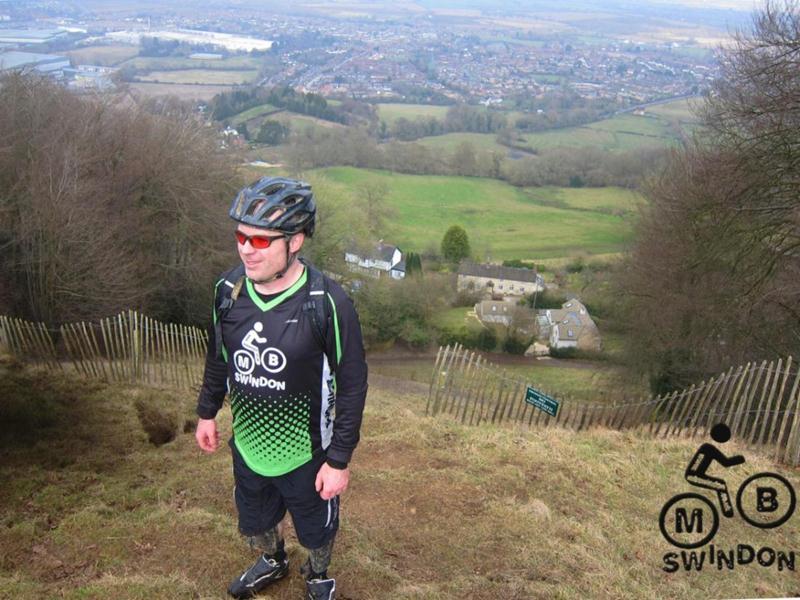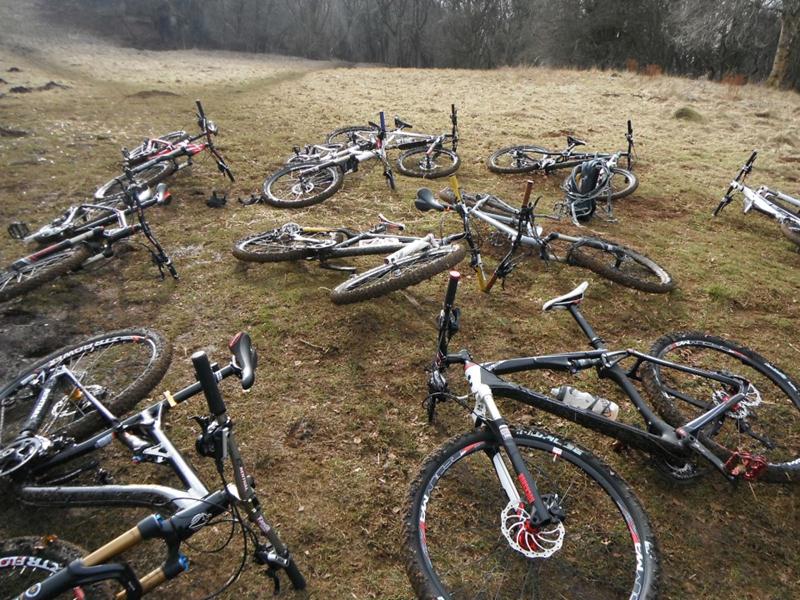 It wasn't long before we had another mechanical, I think we had 4 chain breaks on this ride. It might pay to rename it the chain buster. I knew what was coming up next: the hill of all hills. I did mention to a few guys that I had only seen two people ever make it up in one. Well, that seemed motivation enough, total respect to you guys for riding it and fair play to everyone else that pushed their bikes up there. I must start using some positive self talk and see how that works ("this does not hurt, no this does not hurt").
Cracking bit of downhill single track next. Sensing a good photo opportunity a few of the paparazzi took off to get themselves in a good position and this turned out to be very fruitful exercise. I take this opportunity to apologise to Paul for laughing at his misfortune, cracking bit of tree felling though and to Tom for riding down there on his front wheel, pure skills.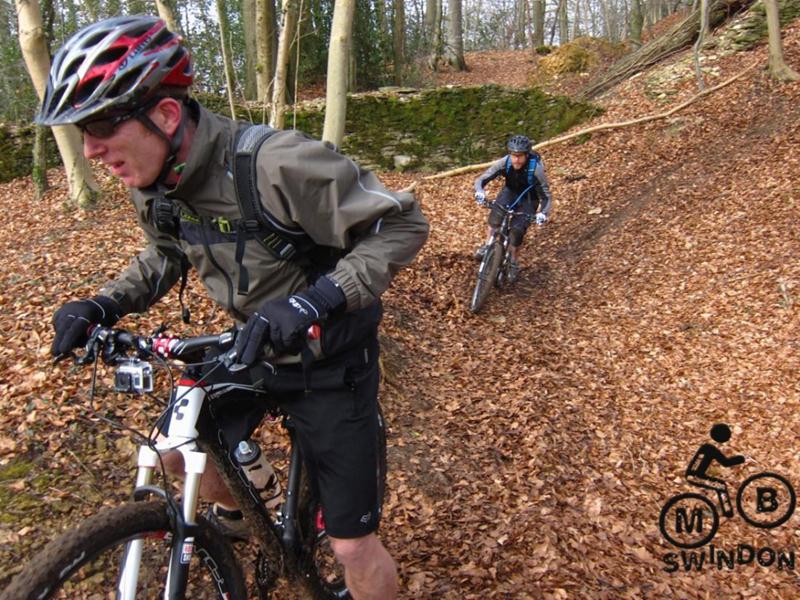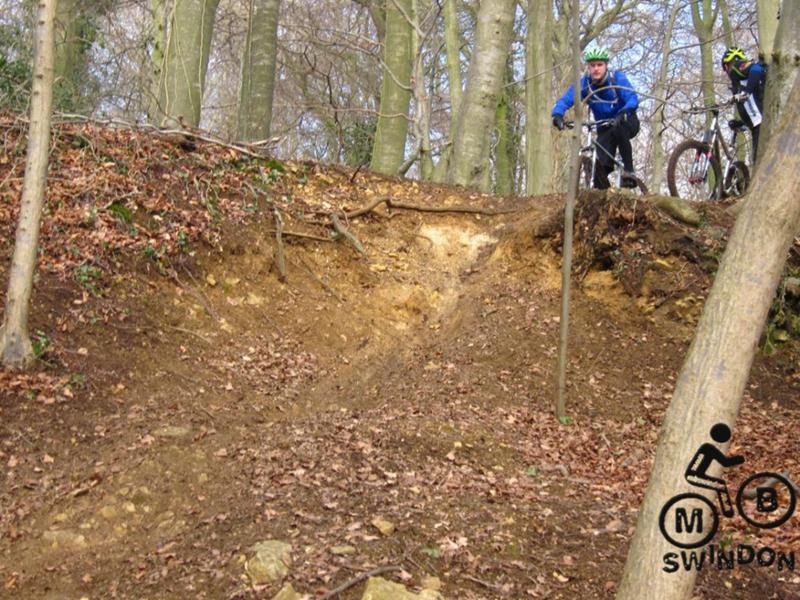 | | |
| --- | --- |
| | |
When we eventually got to the bottom of this piece we said good bye to Tom & Richard and made our way into Painswick woods for  more climbing of the worst kind; littered with roots. I'm really impressed with my winter riding boots they walk really well (just as well). A short break at the top then off for some more downhill single track.  I made a mistake and Tom (big boss Tom) shot pass me (see video). I just managed to shout turn left  and we both missed the turning and decided to carry on and see where it took us, pretty good I  must admit apart from it took us further down the hill (more climbing). At the bottom of this track we came across a National Trust Ranger and what a refreshing change he was, good attitude.
After our bonus climb I made a decision to go back to where we should have turned left just so we could do another little bomb hole and a steep hill with great photo opportunities.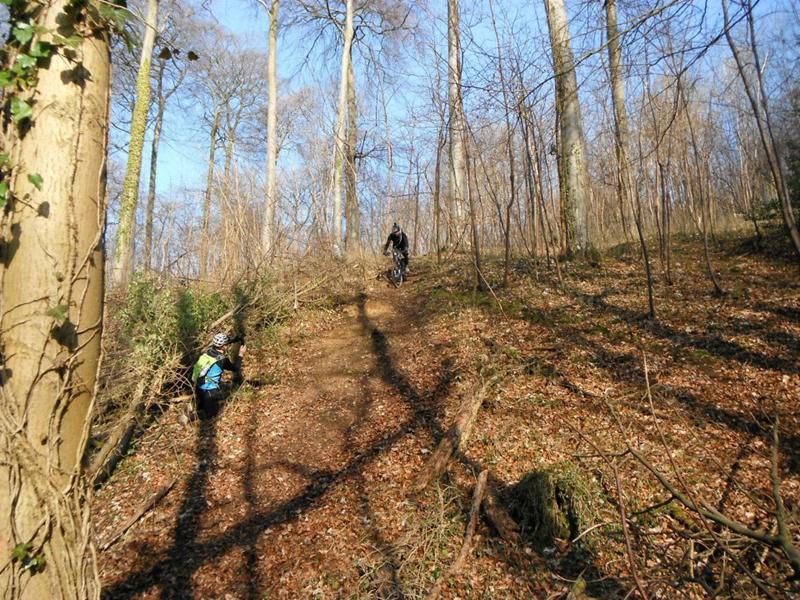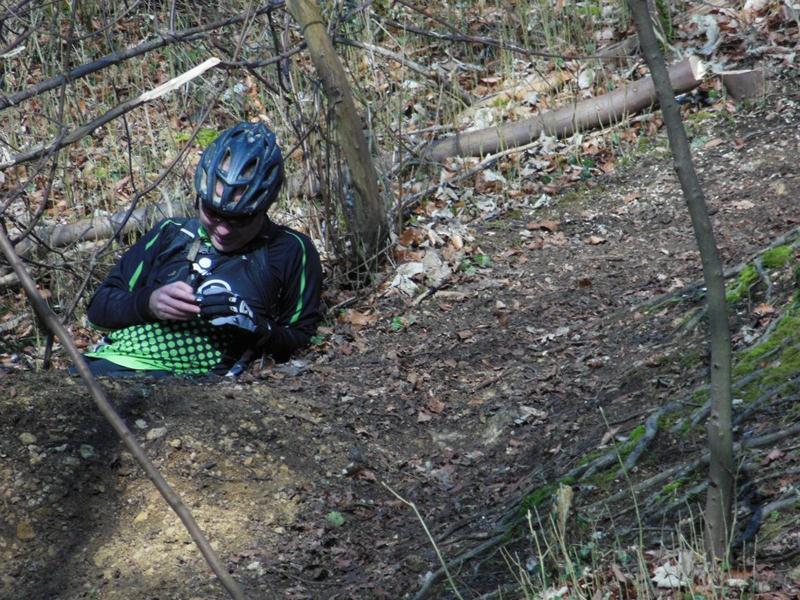 The route took us past a small village called Edge (Can't imagine why it's called that) and up another long hill.  At the top we are really close to being back home so we go the opposite way and take on a good drop off and some nice single track. Then we make our way along the Cotswold way and tackle the Haresfield beacon climb (another stretch of the walking boots for me) and we all meet at the car park at the top.
At this point I asked everyone if they were up to doing a bonus bit promising it would only be another mile or so. If I ever do that again somebody shoot me.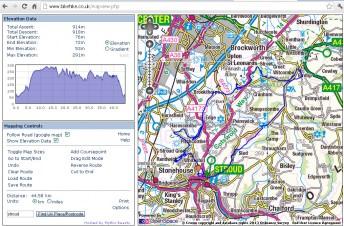 Standish woods has some good twisty single track in it and I think was enjoyed by all. We got to the place that we did the extra bit for and sat down and contemplated riding down the crazy stuff in the quarry. There were tired legs and eyes so only Mike & Chas took off on their adventure, we didn't even have the energy to go and watch them. Chas & Dave back (i mean Mike) and we headed back home.
That was a great ride, everybody stayed together, the weather was spot on and some good fun was had by all.
Cheers Lads.
OS Map, GPX. See www.bikehike.co.uk for a great way to create and view maps.
See photos and map from a similar ride with Bigfoot MBC.