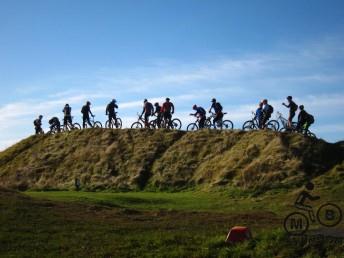 This was a joint ride with Bigfoot MBC, an active mountain bike club based in Gloucestershire. They had agreed to show us the best trails in the Painswick and Cranham area. The driest summer on record since Noah used his ark had turned the original route into a bike wrecking slippery mess. So Jason from MBC had come up with a classic loop from Painswick along the Cotswold edge to Standish woods and Randwick.
There was no rain on the Sunday morning when we met at the Royal William pub near Cranham.  Shockingly, a few riders turned up late, giving us about 20  riders by 10:15am. Fair enough, some did ride up from Cheltenham.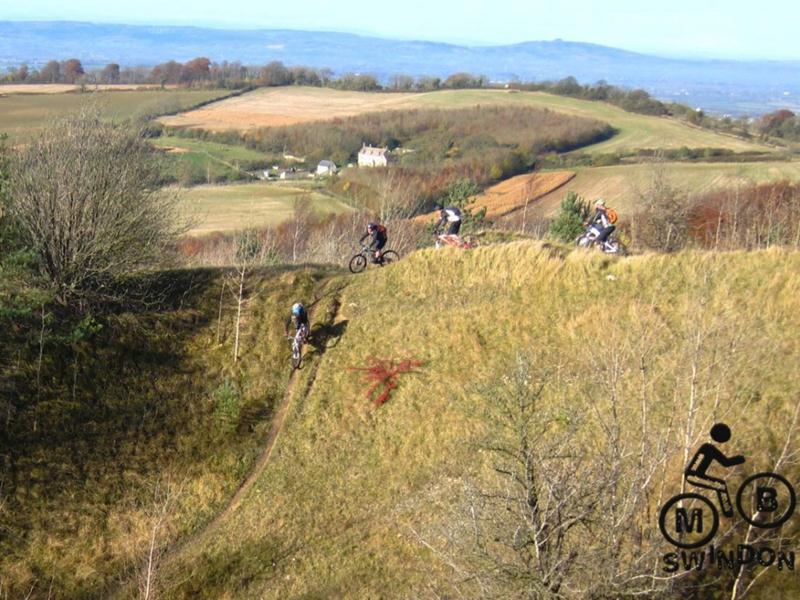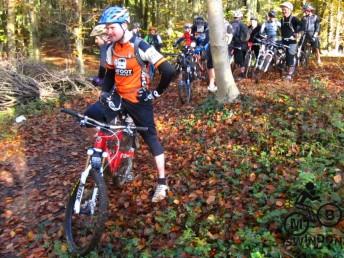 We started out by riding up Painswick Beacon where Jason promised that he knew some bits that could scare us. This involved wending back and forth along the scarp via a series of steep ramps.  These were perfect – some of them looked steep enough but they all had a decent run out and it was just a matter of disengaging the brain and letting the bike do the work. 
Coming off the beacon then the route took a narrow path through woodland with a perfect gradient for maintaining speed. Some of the best trails we've ridden over the last year have been at a very slight down angle; just enough to keep the bike moving. Combine this with a series of swoopy corners through trees and you have a recipe for a lot of fun.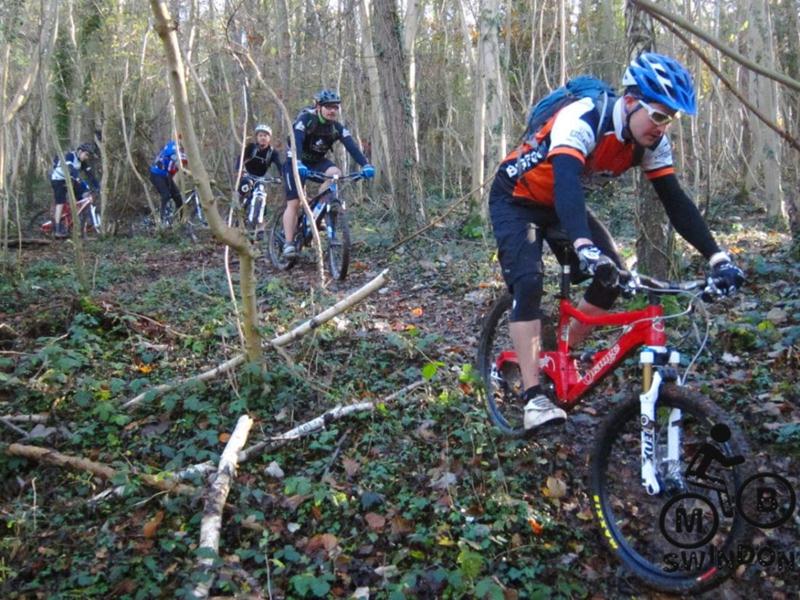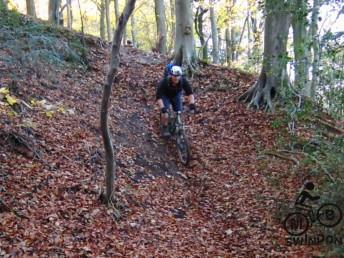 We worked our way over to the Cotswold edge via a lane and a climb. Entering the woods near Edge took us onto a narrow path on the side of the hill. This gave a good mix of challenges – roots, steep ramps, narrow bits, tree branches to dodge. Managing large groups on narrow paths in woods is tricky and somewhere along the line we took an interesting path down the hill and found that the rest of the party had gone a different way. It wasn't a big problem though – we all met up at the car park near Haresfield beacon after a quick phone call.
Standish woods proved once again that you can have a lot of fun if you mix up mud, roots, trees and a slight down gradient. We took two interesting options down the side of the hill; ideal for rear wheel balancing skills.  Chris opted for a lie down at the bottom of the hill.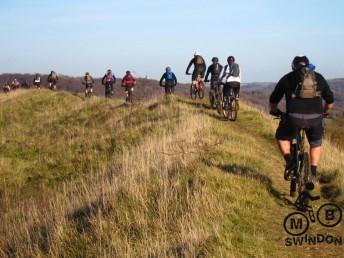 What goes down has to come back up, so there was a tight climb at the far end of the woods, followed by a gradual climb up to the car park. The route then worked its way back towards Painswick, taking in a great bomb hole along the way.
We took an alternative route back up to Painswick beacon, rode a series of interesting drops on the top and then a final climb so that we could "all do Janet". We formed an orderly queue on the top and we all got a fair chance at riding Janet. There were some skids and one rider had a close shave with a bush.  Janet was an entertaining swoop down the side of the hill and an ideal way of getting back to the pub.
Thanks to Jason from Bigfoot MBC for leading this ride. It was one of the most interesting and entertaining natural routes we've done in the last year.
Route map OS Map, GPX. See www.bikehike.co.uk for a great way to create and view maps.