Malvern Cycle Sport are a club who cover all aspects of on and off road cycling. They are British Cycling affiliated, as are MBSwindon. I went along to find out more about their core mountain biking skills training.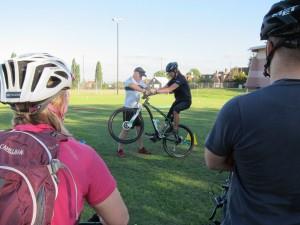 The club were running three sessions: one for children, one for adults and one as women-only.
The adult session was lead by Belinda (Boo) Tarling and Brian Philpotts. Boo is an ex elite and masters XC racer who has twice been masters world champion. So she probably knows a thing or two about riding.
There were between fifteen and twenty riders present. We started with a warm up which mainly involved cycling round side-by-side in a tight circle riding one handed.
The session then moved on to cover four basic techniques: manual (front wheel lift), endo (rear wheel lift), wheelie (power assisted front wheel lift) and track stands (balancing without moving).
Each technique was demostrated and then the group spent about quarter of an hour riding round in a loop trying the technique out (apart from track stands). The coaches watched and shouted out encouragement and advice. There was a lot of whooping and cheering as people managed to get a wheel off the ground or pull a wheelie.
Overall it was a fun session. If you live anywhere near Malvern then you should find out more about Malvern Cycle Sports. See the Malvern Cycle Sports website or Facebook group.
If you live closer to Swindon then take a look at the MBSwindon skills training courses.