When we planned this day we decided that we didn't want to tire ourselves out before a club ride. We've done that before and ended up being really weak on a ride. Usually only those who turn up for build days appreciate how physically demanding it can be. As usual we ended up setting ourselves an ambitious target and working into the dark in order to finish it.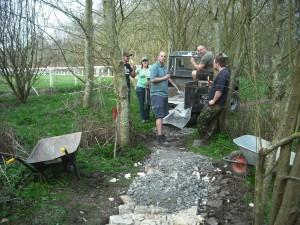 We met at 11am with Pete, his Land Rover, Andy Matthews, Phil and myself (Tom). We started out with some remedial work on the rock steps (down steps) and the follow on jump. Rocks were reseated, more material was added and a drainage pipe was installed on the large berm after the steps. The rock feature on the climb had the cheats bypass blocked off with more rocks. Matthew Kerry turned up with a water sprayer and treated the new gravel.
We were joined by Mike Jeffries and Chris Hopkinson as we started work on our main target for the day. This was filling in the boggy areas near the pond near the end of the trail. Some of this was so bad that it was dug out deep enough to receive a double layer of concrete blocks. New recruit Courtney had arrived by this time. The excess mud was used to double the size of the berm just before the section.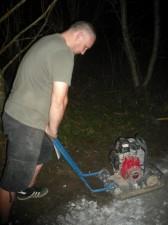 The route in this area was first cut out in October 2008.
Kat brought us cakes and ice creams in the afternoon, which was nice.
By 5pm we had committed ourselves to finishing off the whole job, so a team of five of us spent 2 hours filling sacks with gravel whilst Pete and Chris tipped it.
The hard work paid off – we had it finished by 7:20pm. It was great to see another boggy area be replaced with a decent surface.
Looking at the progress map below it's clear that the East side of the pitch is the last remaining big surfacing job. We aim to get that done next.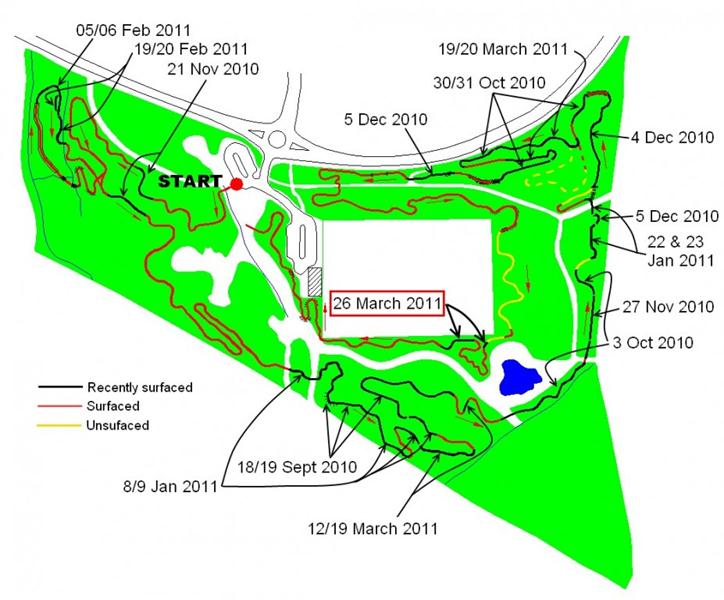 ---