Maps: OS, GPX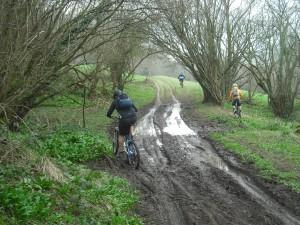 The clocks had just gone forwards which mean that this was the first ride of Spring.
We were joined by local rider Mark Acres who lead us on a hilly route round the Cotswold edge near Wotton Under Edge. This was a varied route that included bits of road, woodland tracks, narrow paths, and tight singletrack through trees.
We met at the Hunter's Hall Inn near Kingscote. They had kindly let us use their car park as a starting point.
The route took us along some lanes before taking a great track descent past Scrubber's farm to Ozleworth bottom. After following various muddy tracks it was the first big climb up into the Ozleworth estate. Anne opted to take the direct route to the pub from here.
A short section of road took us past the radio mast at Goose Green. The following steep single track section with very tight corners was voted as one of the best bits by many of the riders. This was followed by some easy cruising along the bottom of Tyley Bottom before the inevitable climb.
We didn't snigger at the sign for Spuncombe Bottom. In Westridge wood we followed some secret single track through the trees before calling in at the quarry near the Tynedale monument. There were a load of downhill riders dropping down the intimidating edge of the quarry. We made our excuses and stuck to playing on the easier lines.
The second big descent took us down to North Nibley and then on to the lowest point of the ride.
As sure as night follows day then a big descent has to be followed by a big climb. This time it was straight up to the top of Stinchcombe hill. Here Mark showed us some more sneaky single track through the trees.
A fun section of steep track took us the New Inn at Waterley Bottom.
After lunch it was time for double arrowed road climb. The sign post at the top helpfully said "steep hill" for those who didn't notice. After crossing the main road we took in a load of leafy tracks with several really steep climbs. The route was topped with a steep road climb and some crusing along back lanes back to the Hunter's Hall.
The route was just under 20 miles long (32km) and had around 910m of climbing.
Big thanks to Mark (aka "the machine") for showing us round. He said that there's loads more, so we will probably be doing a return visit later in the summer.
---