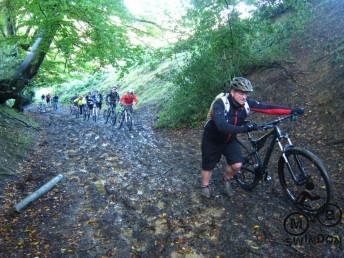 By Gary Palmer
I woke up on Saturday morning to the sun shining through my window. What a relief, off to Uley.
With 14 eager cyclist in the car park of the Crown Pub, if only they knew what was coming. It was smiles all round as we took off. I must make a note to myself not to start a ride at the top of the hill, it was great flying down hill through Uley. But then it was bang straight in to the first hill: a short section of road and then on to the bridle way. Guess what. That was uphill as well with a good helping of mud to up the challenge.
While waiting at the top I saw Tom pedalling up, not quite make it so go back down and try again, on the fourth attempt he made it. Tom you are a true inspiration to me (show off). I was impressed with myself for walking up it. At this point I was thinking I might have bent the truth a bit with saying novice friendly. Anyway I assured everyone that this was the worst bit and we took off, downhill.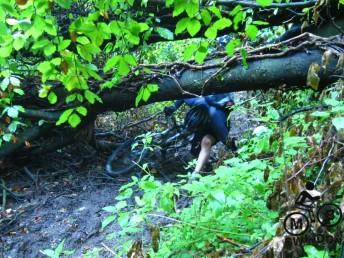 The forestry guys had been working in this section and to say their housekeeping was a bit slack was an understatement. Half way up the next climb there was a tree across the track, it was too high to go over and nearly to low to go under. Not all was lost though – the mud made it nice and soft to crawl under.
I assured everyone that this time it was the worst bit (ha ha) as we set off on some pretty good single track all the way down to Dursley.
After a short handle bar in the face climb up to the sculpture wood section. There were some interesting pieces hanging from the trees. At the top we go into a section of woods with a thousand routes to choose from and if ever we were going to lose someone this would be it. It was quite testing with all the mud and slippery tree routes. Part way through we could see a few guys riding on a lower track but no problem as we met at the end.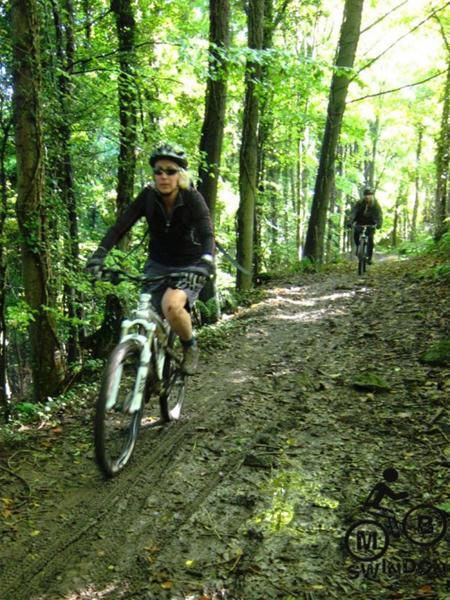 We ended up at Stinchcombe golf club which put us on top of the hill at last. As we were riding through the woods we found a group of riders from the local area. We followed the single track around the perimeter of the golf club to a view point where we stopped and had a well deserved break. The air was really clear which gave us views of the Severn bridges and right across to the black mountains (where there was a ride the following day).
This was followed by a rollercoaster section out on to a bridleway and a rocky descent to the road. It was slightly uphill to Stinchcombe and slightly downhill to Dursley and the Old Spot pub where we filled the garden with bikes. There were some tired looking faces here I must admit but a drink and a sandwich would soon sort that out. The group of riders that we had met up by the golf club came into the pub saying they had lost one of their group. Apparently he had asked some other riders which way to go and they sent him the wrong way. I've no idea who that could have been (Jez?). Oops.
Fully fed and watered we took off again down through Dursley to start the long slow climb up to Cam long down. This was tough, right from crossing the cattle grid where I believe there was a shoe losing moment in the mud to dragging the bike up to the top. The view at the top was quite spectacular though.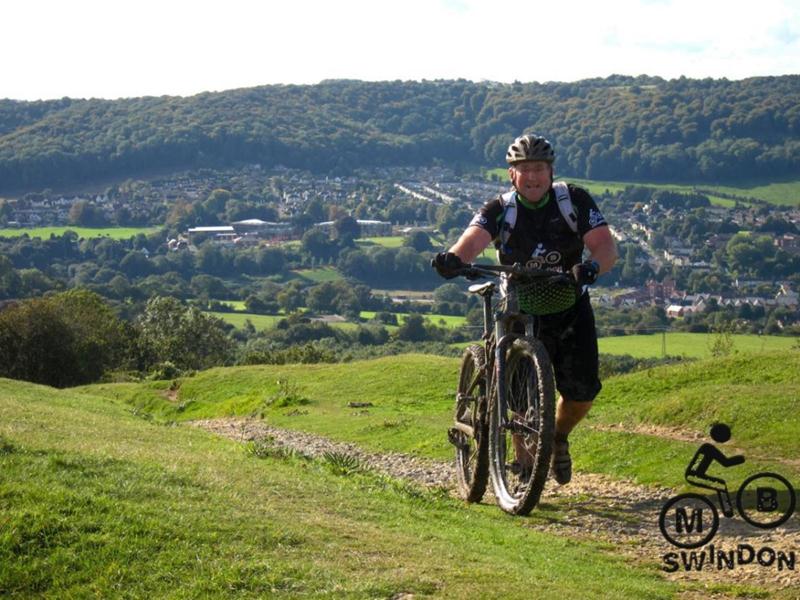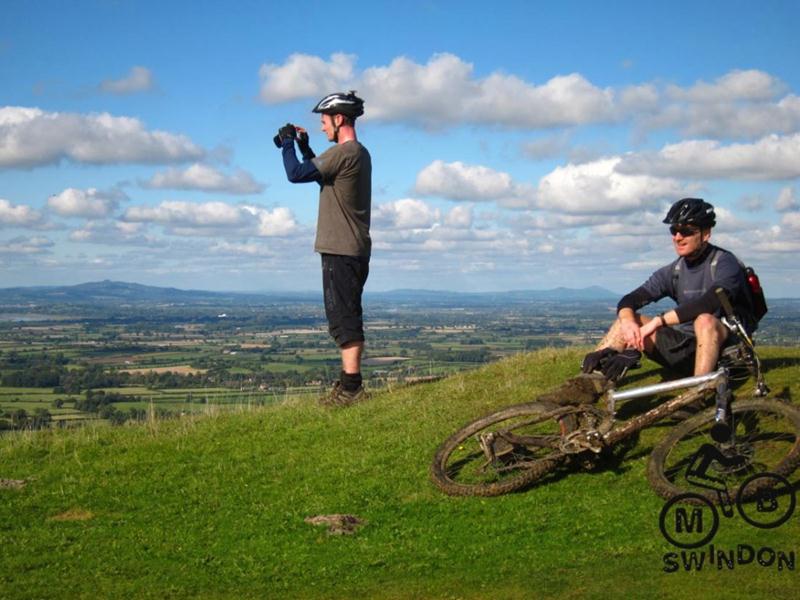 The final descent was in a pretty steep field and skiing techniques were useful down there. Everybody made it to the bottom which was a bonus. We finished with a short road section back to the pub.
A big thanks to Pat & Kristian for riding at the rear and a massive thanks to you all for turning up and smiling through what turned out to be quite a tough ride.
Read what a first timer thought of this ride!
See the ride report of a similar but longer ride from 2011.
Maps
Uley and Dursely ride (clockwise) OS Map, GPX. A recommended method of viewing maps is to save the gpx and then load it on Bikehike.