By Stefan James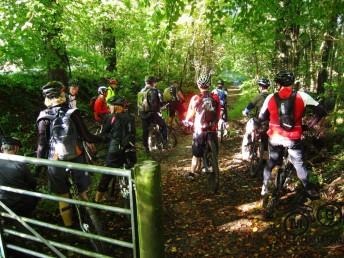 I turned up at the rendezvous having no idea what to expect. From the comments on the website and facebook group I was expecting about half a dozen people, but there ended up being fourteen of us. I often cycle with my five year old; this was going to be quite different.
Once everyone's bike was set up and we'd all signed the 'register', we set off on a nice downhill cruise through the village. Two minutes later, I got my first insight into how riding in a group is different to going solo. We came to a hill which I would normally ride straight past, considering it to be impassable. However, this was our route for the day, and so we all had a go at it.
OK… it turned out to be incredibly muddy, so we all had to get off and push anyway! But the point still stands – riding with others made me try things I wouldn't do by myself. This is where the 'Novice-friendly' tag is important. It doesn't necessarily mean that the ride will be easy, but you will get the encouragement, support and all the time you need to do what you can.
The ride itself was pretty challenging throughout and heavy rain the day before meant we were often grinding our way through ankle-deep mud. (At one point, Gary asked me what my bike was. My bike is bright red with a big white FELT written on the frame; that's how muddy it was!) As the ride progressed, I found that I was constantly setting myself challenges: keep up with the rider in front, don't be the first to give up on a hill, etc. So again, I found that riding with others was having a very positive effect.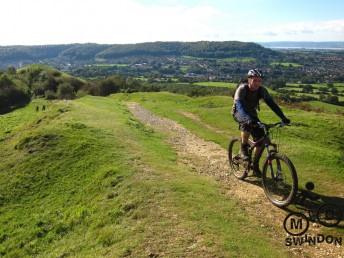 The ride leaders – Gary at the front and Pat at the back – made sure that there were plenty of short breaks to ensure that the group stayed together, and people moved forward and backward through the group throughout the day, so there was never a feeling that the fast riders were being held up by the slower ones. I think this was one of the most important factors in everyone having such a good time.
Two thirds of the way around we stopped at a pub. I had a sandwich and a coke – I'm not sure I'd have made the last few miles with a beer inside me! This was a good chance to chat with a few of the others, who were a good mix of first-timers and experienced club members. This is one of the real strengths of the club – there's no sense that the senior club members look down on the less experienced, but seem to genuinely enjoy sharing their excitement about riding with new people.
A nice downhill from the pub led us to a big, ugly uphill. Just as I was congratulating myself on making it all the way to the top, we turned off the road and started up an even bigger one. I pushed my bike all the way, and still had to stop three or four times to rest. However, the view from the top was spectacular, and all that 'up' meant that there had to be a big 'down' at the other end. After a couple of sharp switchbacks, I found myself on a grassy slope, both wheels locked but still moving, and adopting the 'negative' position I could see some of the others taking up. Quite exhilarating!
After the last mile or so along country lanes and back to our start point, I was amazed to find that we had been riding for more than five hours. Despite all the puffing and panting on the hills, the time really had flown, and I was left with a feeling of real satisfaction at having taken on a far more challenging ride than I am used to, and completing it.