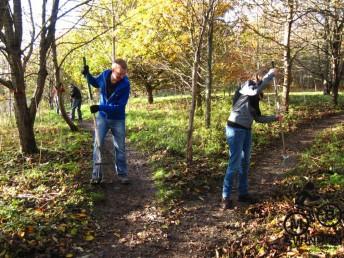 Raking leaves off the trail is is an important  job that we do every Autumn (see photos from 2011, 2010 and 2009).
We had a brilliant turnout for this! We had three teams of four plus two more doing a litter sweep. As a result of this  level of support then we had everything finished within two and a half hours.
The trail is in really good shape considered the weather that we've endured this year. We identified a few areas that will be dealt with at the next trail build weekend (December). Mainly a few pot holes and one or two areas that would benefit from being built up.
See the complete build diary.