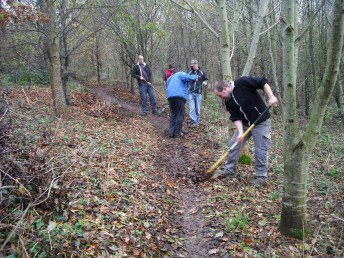 A party of 6 spent around 5 hours raking leaves off the trail. This was pretty heavy going. In many sections the leaves had been compressed into a soggy mulch. By the end of the day most of the trail was clear though.
A big thanks to everyone for getting on with this.
Present:Phil,Pete and Kat, Alan, Tom and Andy
We saw Ian and his daughter Helen cycling round the trail. Ian spent a bit of time marking out the second section of his proposed berms on the hill coming down to the pond.
Tom.