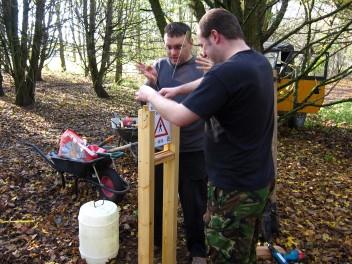 Sunday turned into a really warm November day. We had several tasks planned.
We had some new sign posts to install on crossing points. On the front these warn riders to slow down for path crossings. On the back there are no entry signs for bikes and pedestrians. The signs have a plywood core with self adhesive laser printer film on both sides and outer layers of perspex. The wooden parts have been built by our resident joiner, Jez.
Rafe, Phil, Jerome and Tom worked on installing sign posts. Mark arrived to help a little later. Meanwhile a working party of Phil (not Mayger), Nigel and Matthew Kerry raked leaves off the trail. We do this job every autumn (see 2010 report). This was great team work.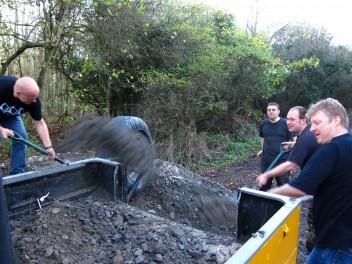 Some litter clearing was done from the trail next to the road – mainly rubbish that had blown in off the road.
We installed three sign posts, plus cleared back some branches on the crossing just before Pete's Impossibly Stupid Steps. By this time Mark and Mike Jeffries had joined us.
In the afternoon we shifted about 7 tonnes of gravel from the latest 30 tonne pile in the triangle down to the furthest point.
Thanks to everyone who turned up, it was great progress for a bonus trail build day.
Our next trail build days are Saturday 26th November and Sunday 27th November. It would be great to see you there.