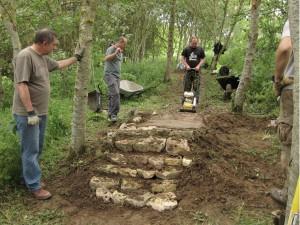 We've had a bit of a rest from trail building during the summer of 2012. The trail has held up really well after a lot of rain and traffic levels. There are a few minor issues to be dealt with here and there, plus a few areas that are trapping water. The main priority section is the oldest remaining length of original trail. It's shown in the map below.
We've got four build days planned for September and October to deal with this area and hopefully top up some other areas. We will be doing some work in November and December too.
Keep up to date with progress on our build diary page and upcoming events on our events page.
See our trail build video 2011-2012 plus a video of a complete lap from March 2012.