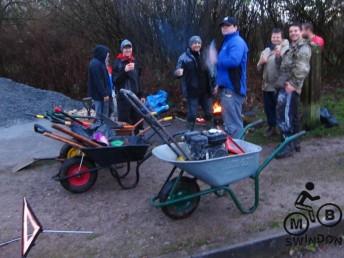 We will have 20 tonnes of material on site and the plan is to shift as much as this is possible by Land Rover, power barrow and wheel barrow.
We will have a BBQ on site thanks to Tom Scott.
Teas, coffees, hot chocs and cakes from Kat.
We want this to be a people power day – where sheer numbers make shifting 20 tonnes easy. We've done it before several times! For example in March 2013.
The event runs from 10am until darkness. Turn up any time for as long as you want.
There's been great progress at the trail over the last few years.  See the build diary for details.