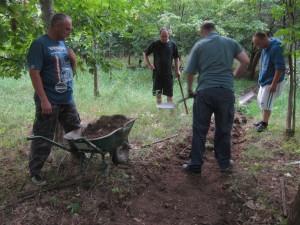 We've been making really good progress in the triangle and we'll be continuing with the new trail in there on this build day. We'll also be doing some lightweight jobs around the trail. Things like branch trimming and cutting back undergrowth.
See our recent build reports: July 16th, July 19th, Aug 2nd, Aug 10th, Aug 17th.
We meet in the car park at 10am. If you arrive after that then take a walk round the trail to the triangle (bottom right of map below) Otherwise you can call us on 07010036444.
Useful tools include spade, mattock, pick axe, saw, wheebarrow. We've got quite a lot of tools between us so don't worry if you can't bring any.