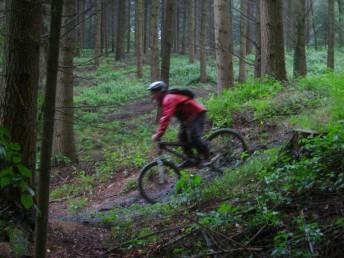 Rain had been forecast, rain had fallen, it was raining, more rain was forecast and after that it was going to rain but slightly more lightly.
Despite all of this it turns out that Wiltshire, Gloucestershire and Worcestershire still had 15 people who either had nothing better to do or actually like riding in the Forest of Dean. Tony and Mark had turned up due to double jeopardy – they'd both vowed not to bother if it rained but assumed that the other wanted to ride.
We'd found out the night before that a well publicised race was using some of our planned route. We weren't sure weather we'd be alright. A lack of facts was clouding the issue and possibly precipitating a disaster. We decided to press on anyway knowing that we had intermittent showers to look forwards to at the end.
We set off (in the rain) and headed straight for the first swoopy part of the Verderer's. This was combined with the centre section of the Freeminers where we got tangled up with a few racers. We caught a few and a few caught us.
Then we did the start of the Verderer's again (in the rain). This is good because there are three nice kicker jumps to do.
After riding past the shouty marshal twice we headed round a load more Verderer's trail before peeling off into the proper Forest mud. A nice muddy slope, the original enduro route rooty downhill plus various sections of the previous two enduros were used.
At this point we lost Richard due to chain suck issues and then Tony. One quick phone call and we had plan to meet later.
Some of the trail had become quite overgrown. That combined with quite deep puddles lead to a lot of laughing and whooping.
Then we reached the slag heap. This is quite a steep drop which then turns into a ramp. In the rain it was close to carnage. Every rider made it down in one piece though it looked touch and go at a few points.
This was followed by a really nice traverse from the most recent enduro route. The end of this is a quite a steep ramp down to a track. Phil entertained us with some muddy slipping and then shouting when he stubbed his broken toe. Verity ran to rescue….his bike.
The rain had been falling all morning so we sheltered in one of the mine shacks.
We then climbed up to the bomb hole area over the road and had a bit of a laugh there. The mud levels in the bottom of the hole meant that all speed was lost and then it was impossible to climb the other side. There were various falling off situations, mainly involving John who tried to blame SPD shoe issues.
We then returned and did the original downhill route. There was a lot more laughter here in the wet mud.
We finished off by riding to the top of the Verderer's route and hammering the last three sections. It was still raining so we hailed the ride as a success and stopped.
The rain stopped about 10 minutes after we got back.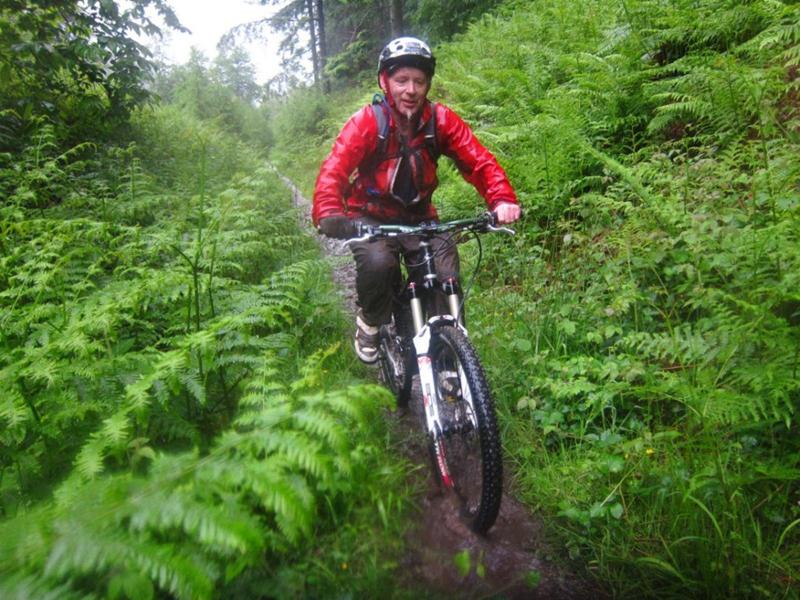 Previous rides: May Bonus ride, Dec 2011, Nov 2011, Aug 2011.