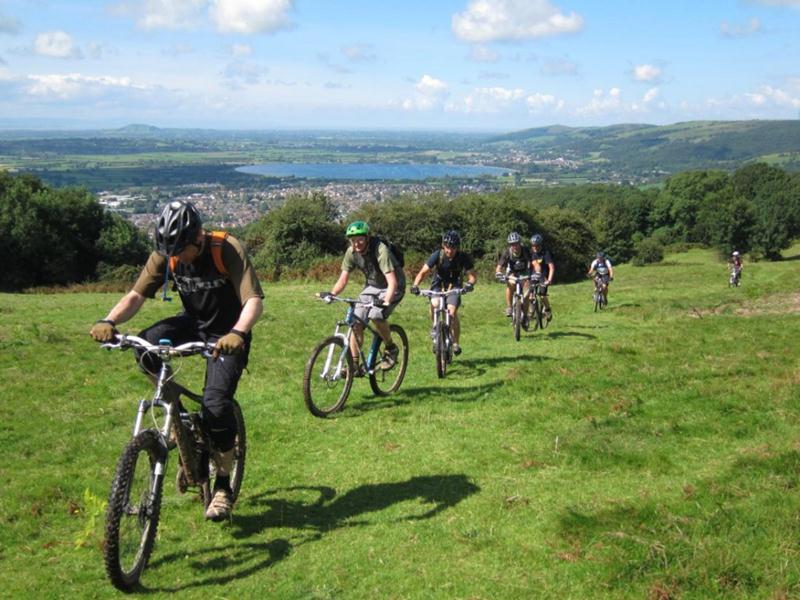 The Mendips are a set of hills to the south of Bristol and a designated area of natural beauty. A bit like our riders really.
We met in the car park of the Swan Inn at Rowberrow on an unusually bright and dry day considering that it was summer 2012. The plan was to follow Antony De Heveningham-Smythe from Bristol Trails Group round the best bits. He'd already shown us round Ashton Court (Bristol) in February during the dry season.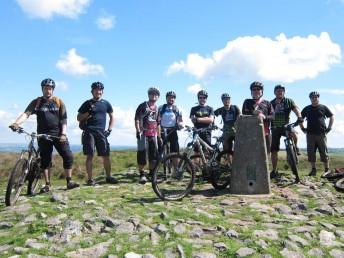 After a very short descent and a river crossing then we started a long climb. After passing the Mendips Raceway which teeters on the edge of the Batts Coombe Quarry then we followed the long, rocky descent down to Cheddar. This is famous for its Gorge and also tat like Wookey Hole (sounds like a pleasure complex).
At the bottom Philip Allum found himself with a large Wookey hole in his tyre. The first fix using an inner tube lasted to the other side of Cheddar. The second fix involved several pieces of cardboard and was good enough for him to continue rather than abandoning the ride.
Antony gave us a slightly modified route over the hill which took us past the Totty Pot. We took a road section past Yoxter and then up a stinging hill to the radio masts and finally the trig point at Beacon Batch. The view from up here was impressive with the Quantocks, Weston Super Mare and Clevedon all visible and the Bristol Channel and Wales beyond. I'd ridden all of this on the Sustrans Cheddar Adventure in 2010.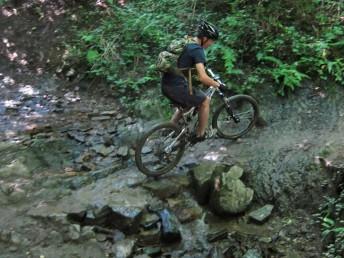 It was a long gradual downhill most of the way from the Beacon taking in several rocky sections and a lot of puddles. Phil's tyre needed fixing again; the water from puddles had made the cardboard go soggy so we used an MBSwindon membership card this time. This lasted for the rest of the ride.
We ended up at Dolebury Bottom so finished off with a short climb up the road back to the pub for well justified beer and food.
Thanks to Antony for inventing the route.
Other rides nearby include Ashton Court (Nova and Yer Tiz trails) and The Quantocks.
Bad Ass Bikes are based in Burrington Combe on the edge of the Mendips.
Mendips mountain bike route map OS Map, GPX, Mapmyride.