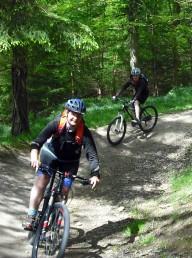 Ladies Ride – Forest of Dean 25/05/13
By Sarah Bailey
As always our ladies officer, Sharon Bassindale, arranged for glorious weather for the ladies ride in Forest of Dean. Unfortunately, Sharon was unable to attend – something about acrobatics gone wrong! The job of back marker, I mean ride leader, fell to me. To say I was a bit worried was an understatement – mainly due to my painful previous experiences there.
There were 5 of us in total: Jo, Hazel, Clare, Ania & myself. We decided to start with a lap of the Verderers (blue) trail which everyone thoroughly enjoyed. However it transpires that there were some strange ladies on the ride – ones who like cycling up hill. Weird!  At the end of the lap, and everyone in one piece, it only seemed right to stop at the cafe & eat cake.
After a quick vote, and Jo assuring us that we'd all be able to do the freeminers (red) trail, we set off again. We soon noticed very quickly that it's quite rooty but everyone handled it very well. The only dubious moment was having to cycle through the branches of a fallen tree. The end of the lap is right by one of the downhill tracks – so we started pushing our bikes up. Following Jo down, we all got to the bottom still on our bikes. The others decided to have another go so I took photos – well I wasn't going to push my luck as I'd managed to stay on my bike all day. Jo did a "proper" run and it was good to see everyone around stopping to watch her – she makes it look so easy.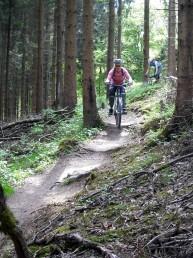 Unfortunately Ania had to go home after this but those of us remaining went on to complete the family (green) trail – with a few blue off-shoots to play on. Despite the others telling me that the old railway line wasn't uphill, I could tell it was. But on the upside, if you go up, at some point you get to go back down – making sure we all avoided small children on bikes with little sense of direction.
We covered 30km in all and everyone seemed to enjoy the day – which ended up in us eating cake again. Well, it was a ladies ride afterall. Looking forward to the next ride with Sharon back at the helm.
Oh and a massive thanks to Jo for passing on tips, taking photos and giving plenty of encouragement (even with a dislocated finger).