Ride report and photos by Sharon Bassingdale
Yet again the luck of the MBSwindon ladies was with us, with another absolute scorcher! Thankyou once again weather gods!
As planned, we started bang on 10:15am from Mouldon Hill car park. We set off out around the lake and over to the railway. Then a "boring" bit of road riding to get us out to the Blunsdon/Cricklade railway line. We took a nice steady cruise along there, following the cycle network route 45 to Cricklade.
After negotiating the roundabout (and a slight wrong turn by yours truly! ) we rode up alongside the leisure centre and then out into the middle of nowhere!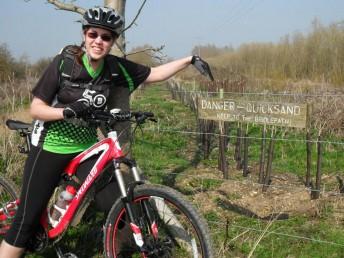 The paths/cycleways/tracks are generally really wide, so it was a real nice social ride, with the ladies able to ride alongside in pairs having a lovely chin wag.
Unfortunately we did need to take some evasive action against some 'recreational riders'. I am sure that when you drive on the road you stay to the left…. I did think the same applied when cycling and especially when there is a group of six zooming towards you, but hey ho, we had the power!!!!
Some minor maintenance issues with bottle cages (great forethought Sarah with your cable ties) and we were safely on our way. At the end of the track we hung a left out onto the spine road (?) and made our way to our well deserved cafe stop, where we met our pit crew. (Thankyou Nigel and Knuckles the dog for making sure we were all good. The all day breakfast looked lush).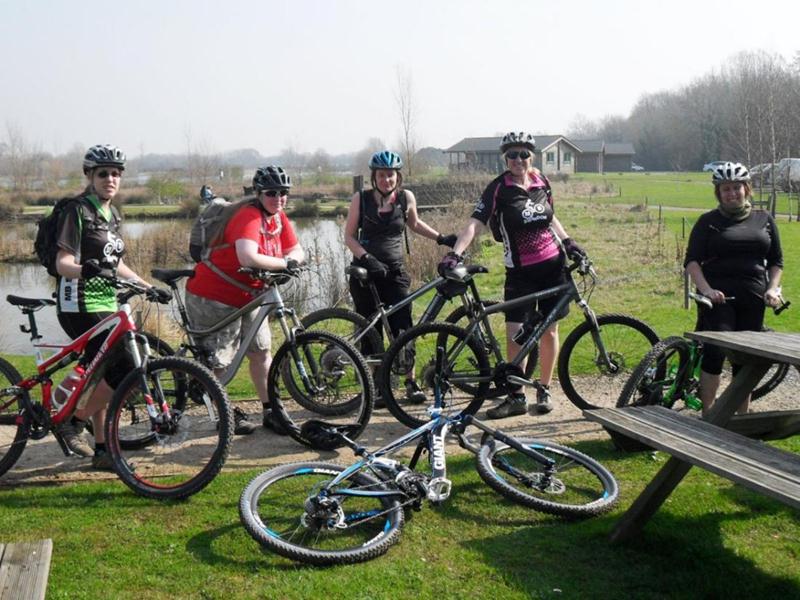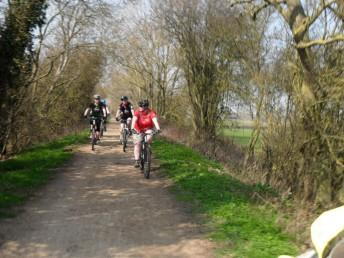 After 1 all day breakfast, 1 cream tea, 1 round of toast and jam, 2 slices of cake, and various hot beverages, we were ready to roll again!
We headed out to the lakes where we had a casual coast, taking in the scenery, seeing how quick the quick sand actually was (really not that quick!), and going something that seemed as big as the back end of a horse (Oh yeah, it was the back end of a horse!!!). After that we came back out on to the cycle network route and headed back.
The ride was a really nice, casual, social ride, which allowed everyone to chat and get to know each other a bit better.
Hopefully, a lovely day had by all. Thankyou to the ladies who joined us, Ann, Sarah, Sharon, Jen (+1), Kat. Thankyou to Kat for help today, and to Nigel for meeting us to do any repairs if needed (good to see you are on the mend properly too following the big off).
I Look forward to seeing you all at our next rendezvous, Forest of Dean on the 15th of April.
Route map: OS Map | GPX. See ride report from previous water park event.
Tom says: Looks like a bit of train spotting was done too.That's the Swindon to Cricklade railway.