This was a three day camping trip to mid Wales, organised by Alan and Jodie West. See the original event page with route suggestions.
---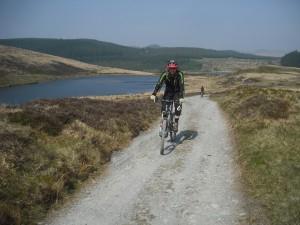 We were treated to a Royal wedding bank holiday weekend of bright sun with no rain at all. This followed on from the previous weekend which had been a late Easter. May 2011 was the driest since records began.
On Friday we met up at Nant Yr Arian where we rode the Summit + Pendam trails one and half times (Trail guide including maps). The dry weather meant that the trails were in great shape. We really liked the kickers on the top section of the Pendam trail (round the lake).
We then moved onto the Dolgamed camp site near Dolgellau (google map).
After a night of carefully rehearsed eating and beer drinking we were ready for more.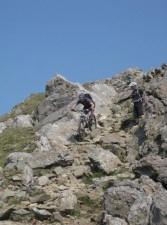 We had a classic ride for Saturday – the ride to the summit of Cadair Idris (Cader Idris). This is an 893m high mountain – Wikipedia guide. The route was a case of three hours up and just under an hour down. It was possible to ride almost all of the route up. Special mention goes to James who rode all of the downwards route including the very steep and extreme top secton. This is just below the summit trig point and is a bit of rock scramble to walk up, never mind riding down.
Bikely map of Cadair Idris route (do Show-Profile Plot).
On Sunday the group called in at Coed-y-Brenin and rode the Beast trail (Google Map/Bikely map).
Thanks to Alan and Jodie for organising this event.