The MB Swindon gravity have been in action again. Here's their report from Haldon Forest, as written by team member, Phil Allum.
The day started with my chauffeur Mike Brazier arriving at 7:30am to collect me and my trusty stead. My preparation for this race was pretty minimal, the bike ran brilliantly at the last race (Red Kite Events/Empire Cycles enduro), so it was a check over to make sure all was well, a bit of lube here and there, then cut the old number board off the front.
Having never been to Haldon Forest before, I was pleasantly surprised to see a blue and a red graded way marked trails, pump track & skills area. Supported by a centre with cafe, toilets, Oh and Segway tours if you are that way inclined. There is also a Go Ape! If you fancy monkeying around.
After a nice 2 hour drive down the M5 in glorious sunshine, we met up with James & Chris in the car park. Pleasantries out the way, the usual discussions started about tyre pressures. General consensus being Chris's are way too soft, and mine are too hard. Yeah whatever.
Stage one was right out the car park. Literally. So the warm up involved messing around on the pump track, then sprints along the fireroad. Queuing up at the start we got chatting to our main rivals, Leisure Lakes, who informed us that due to circumstances, 2 of their guys couldn't make it. So they had recruited a couple of locals to fill the team. Oh crap. Extra pressure was the last thing we needed as we were about to set off.
3,2,1 GO! Pedalling out the start straight in to flat, twisty rooty sections, nice and grippy, ducking and diving around the trees. There was a flat pedal to an awkward 90 degree fireroad crossing in deep gravel. Plenty of tell tale skids showing where loads had overshot this one. Dropping down in between some huge Rhododendrons bushes, it was really dense, having no idea where the trails go until you are already past it. Then it got steeper, still quite twisty, with masses of roots and rocks, just trying to keep it clean and stay off all the square edged stuff. Dabbing out at the finish, the transition was a long fireroad climb back up to the trail centre car park for stage 2.
Stage 2 started the same, fairly flat, tight and twisty. Quite loamy with plenty of off camber roots on the inside of corners. Feeling good, I start pushing a bit harder, getting closer and closer to clipping trees. Then there was a long flat sprint that seemed to go on forever, pushing as hard as I could before the track changed as it crossed the fireroad. Then a series of drops, a couple of corners then it straightened up and headed down. With great visibility you could see the big polished roots everywhere and rocks galore! Time to disengage the brain and start pedalling! Banging through it all as fast as possible, it really did favour the brave. Only hitting the odd big bit, which used up most of the travel. Just need to stay off the brakes and stay on the bike! A couple of corners left and across the finish! Struggling for breath, but grinning like a mad man. Half scared and buzzing from the adrenaline. I loved it. I think I probably overdid it though. My lungs were absolutely burning, and with 3 stages still to go. Oops.
A pedal along part of the blue trail took us up to the start of stage 3. The Team Chase. This is where all 4 of us start at the same time, and race together to the bottom. We had previously decided on the running order, but that's only out the gate, after that it's a free for all. With Mike out just in front of me I began the job of trying to hang on to the back of him. This was a cracking stage, and with all of us riding together makes it so much fun. Watching Mike pump the ground and gathering speed without pedalling, made me realise I definitely need to get smoother. Hearing the odd whoop or expletive behind me, I knew the other two were right on my tail. The bottom half of the stage had some awkward square stream crossings, 2ft down, 5ft along the stream then 2ft up the bank on the other side. There must of been 4 or 5 of them, hard to take at any speed. Thankfully all was well, and when I stopped at the finish to dab out, I turned around as was glad to see James and Chris right behind. Phew, that's 3 stages clear.
The transition to stage 4 was long, using parts of the red trail. Nice swoopy surfaced trail with great views. The red trail would definitely be worth a ride if you are ever in the area.
Stage 4 started off similarly to the others, before getting steeper on loose rocks. A short sprint up the fireroad, before the tape disappeared off the side into the abyss. A small crowd had gathered here. A quick decision was made to sprint up the fireroad and then launch it!  Off the side into a rock garden. Not what I was hoping for but, as they saying goes: have travel, will use it. The 160mm Lyriks doing what they are supposed to do, and doing it well. The rest of the stage was well used trail, fast and smooth, with some nice big bermed corners. Dusty switchbacks interspersed with some rocky sections. It is possible that I may have squealed with delight a few times on stage 4.
A bit more of the blue trail takes us up to the top of stage 5. About 30 metres in, we watched 3 people go over the bars one after the other. What the hell was going on? Only having a few minutes to spare, we didn't have time to investigate. But taking my turn, on turning that corner, I was faced with 2 massive ruts caused by logging machinery. Just  a couple of metres to my left were logs placed over the ruts, somehow I (like most) had ended up slightly off course. With a mixture of paddling and luck I cleared the ruts rather clumsily and ungracefully but happy to still be on the bike. Trying to find my rhythm again, and get back into the zone, I saw a Carlos special. Carlos by the way, is the event organiser and master stage builder. He finds it hilarious to put ridiculous climbs in races. It was described after by many as 'The Wall'. It was steep. And long. Pushing as hard as possible, I could see at the top Mike was overtaking someone. Good lad! By the time I got to this point, thinking that was it, I was greeted by a flat sprint for the next 100 metres. Totally pooped, dropping back into the singletrack, the final part was a mixture of natural trail  with some manmade features; drops and a couple of nice tabletops. At any other point I would of loved to have a bit more of a play, but decided to play it safe and finish in one piece.
Catching my breath, I watched as James then Chris come down the trail, both adding some style to the mix on the tabletops (Wishing I could do that!). That's it, we were all done, no mechanicals and no injuries!
On returning to the events village, it was the moment of truth. With electronic timing, the results are available as soon as everyone is finished. So a nice ice cold recovery drink later (thanks Captain!), and the results were ready…….
A very well deserved 1st place to MB Swindon Gravity Team!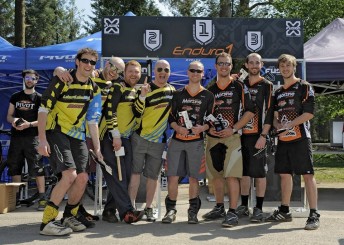 A fantastic result for all the hard work we put in. It was a tough day, with testing stages for all aspects of being a good all mountain rider. Crazy flat out downhill's, coupled with the odd climb and everything in between. Great result lads, well done.
Massive thanks to all that make this happen; the MB Swindon Gravity Team, our managers and all our sponsors.
Round 3 of X-Fusion/Enduro1 series will be at Grogley Woods near Bodmin on July 20th, if anyone fancies joining us. See you there! Take care folks, enjoy your riding.