This was only my third sportive, and the second time that I had done this one. Registration was done in  a few minutes and I went through a few stretches as I listened to the safety briefing before heading off on the short route – 50 miles.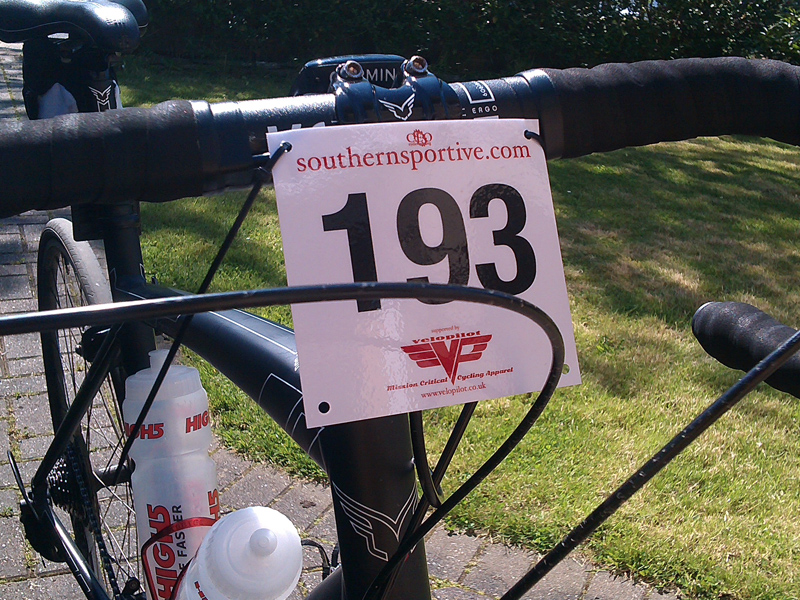 It didn't take long for the range of abilities to become apparent. I got passed by a couple of real flyers going up the hill to Wroughton airfield, then passed a man already reduced to pushing his bike. "Wait till you see what's coming!" I thought.
Sure enough, a few miles later I joined the procession of lycra-clad bodies huffing and panting their way up Hackpen Hill, whilst trying to look calm and controlled when passing the event photographer three quarters of the way up. After all that exertion, there was a chance to catch my breath during the long descent towards Rockley, where the first feed station was set up. I spotted an MB Swindon shirt here – good to meet you Nathan. I also saw a very casual looking woman with  her handbag over her shoulder. It always cheers me up to see these reminders that an expensive bike and flash gear don't make you a better rider!
After a quick drink and a banana, it was over the hill, along a few flat miles to Ogbourne St George, and then face to face with Copse Drove, also known as 'Snap!' This is one of the toughest hills in the area, and it had been on my mind since starting. I'd made it all the way up last year, but hadn't managed to do as much riding this year, and wasn't sure about making it. In the end, I made it about three quarters of the way up. When the rider in front of me stopped, I finally lost the mental battle I was having with my legs and pulled over. At least it gave me a chance to take a photo, and after a minute's rest, I was able to pedal my way to the top.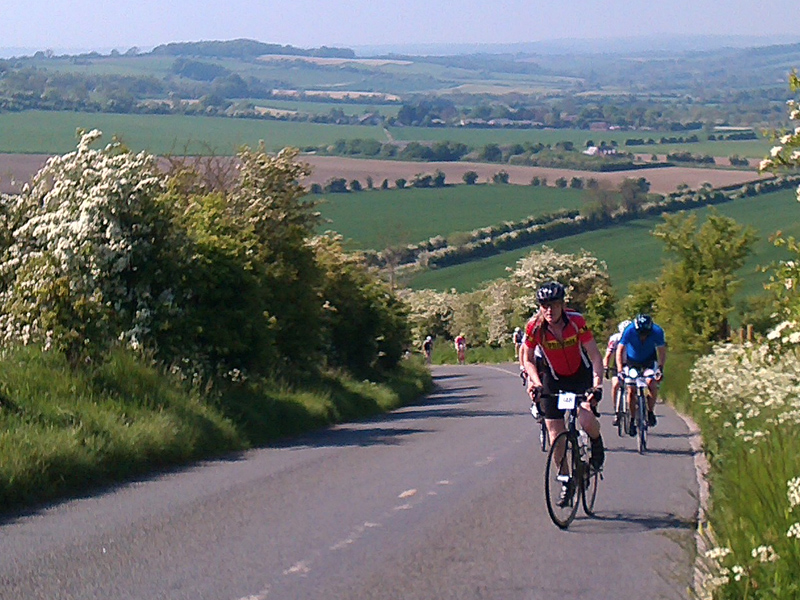 A road closure meant a diversion past the Ramsbury Brewery (and an extra hill to climb), then a few relaxed miles through Ramsbury and a few other little villages, before turning off just before Hungerford. Approaching the halfway point of the ride, the heat of the day was starting to build, though thankfully the next few miles were along shady country lanes.
After crossing the M4, the ride turned towards Lambourn and the second feed station. My memory played tricks on me here. I'd imagined this section to be three or four miles long, but it turned out to be almost ten. Coming around bend after bend thinking "It's just around here," only to be disappointed again was rather dispiriting!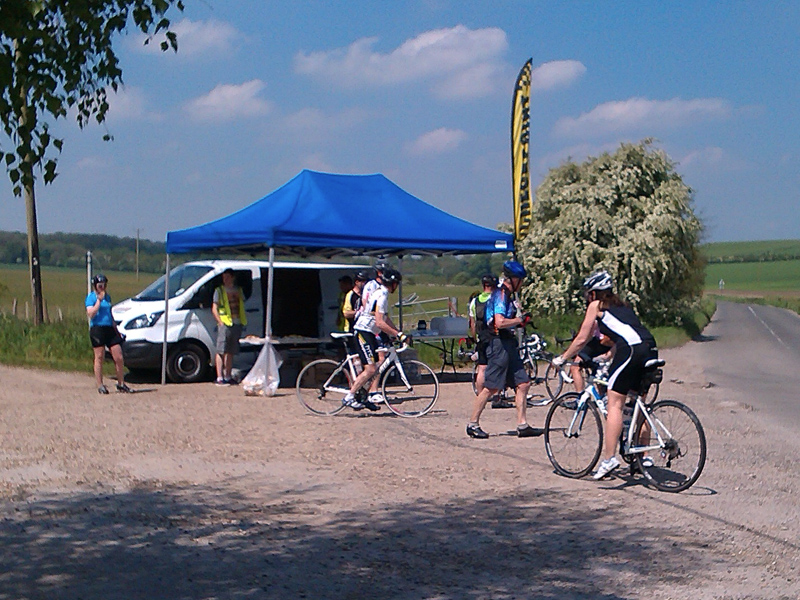 Eventually, I reached the feed station and, suitably refreshed, set off on the last fifteen miles. Unfortunately, two miles later I got an attack of cramp in both hamstrings and had to stand at the side of the road, reassuring other riders that I was fine whilst bending myself into all sorts of odd shapes!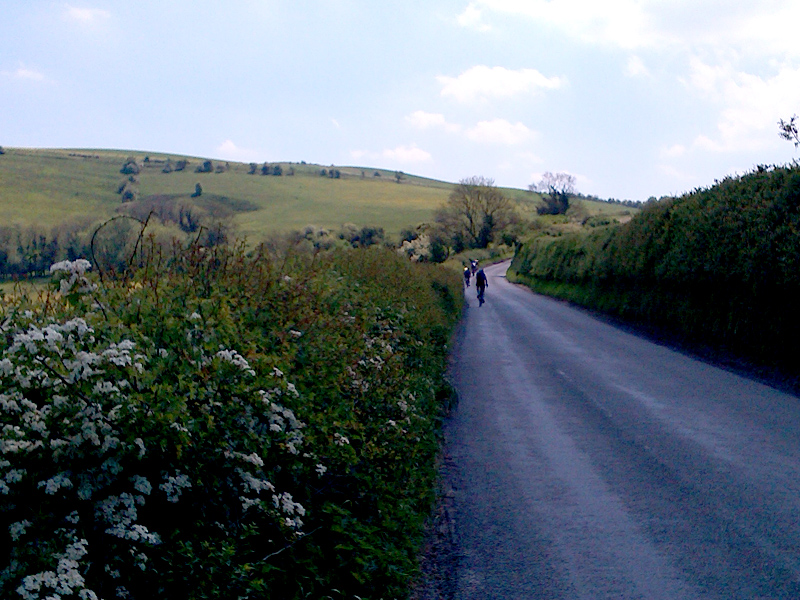 There was one challenge left: the climb up Hatchet Hill in Hinton Parva. This had got the better of me last year, but I managed the whole thing this time around. The last few miles went by fairly easily, and the finish line at Croft was soon in sight. The electronic beep as I crossed the line was a slight anti-climax (where's the cheering crowd?), as was finding out that I was four minutes slower than last year, although I definitely felt better at the end this year.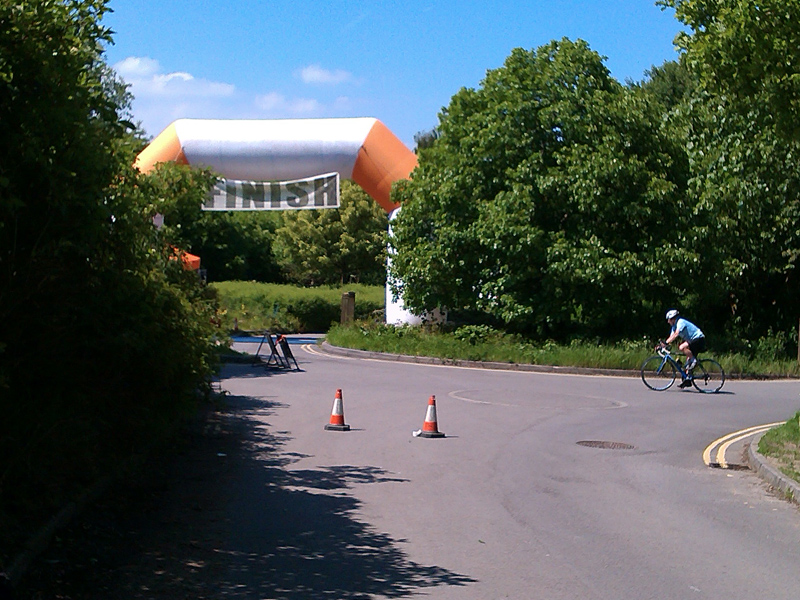 Maybe that explains what I did next. (Or maybe I've been on too many rides with Tom Stickland!) As I approached home, my Garmin was telling me I'd done just over fifty-three miles, and the idea popped into my head that, as I'd come this far, why didn't I make it up to an even sixty, a distance that had been a target of mine for some time? So that's what I did. I rode around Old Town and Lawns watching the distance creep up until it hit the magic number.
I'll be hoping to do the Savernake Sizzler later this year, and the Macmillan Castles ride will be my first official MTB event. See you there!