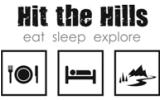 We've got a new club discount for MBSwindon club members (you can join online using Google Checkout).
Hit The Hills offer fully catered weekened mountain biking trips at the best mountain biking locations around the UK. All the meals are provided by their trained chef with access to locally sourced ingredients. Team building and bespoke packages also available.
We're also in discussions with them about a weekend trip to the Peak District in late April. See also our trip to Mudtrek in February 2011.
See our full club discount list.