Mudtrek describe themselves as "the ski chalet for mountain bikers". They are located in Wales near the Brechfa trails.
See our ride reports from April 2011 and December 2010 plus our Brechfa trail guide.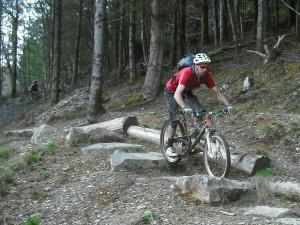 The plan is:
Arrive Friday evening and drink beer.
Do an epic ride straight from Mudtrek on Saturday with Jason, their guide.
Saturday evening go to the pub (Mudtrek will take us).
Sunday go to Cily Cwm (Cwm Rhaeadr), a great little trail. More info about Cwm Rhaeadr, google map of route.
The price is £95 per person. That covers accomodation, breakfast, lunch and evening meal for two days (menu). There's guiding on the Saturday plus we've negotiated a lift to the pub so that everyone can drink if they want to.
Facebook reviews plus this on Bikeradar.
To book a place you'll need to send a deposit of £24 to Tom (email tom at mbswindon dot co dot uk for details).