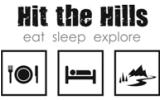 Hit The Hills offer fully catered mountain biking weekends at various locations around the UK. They have a fully trained chef who works with locally sourced ingredients. They offer club members a 10% discount on bookings – see our full discount list.
We'll be visiting the Peak District for the weekend of Friday 11th – Sunday 13th May 2011.
The price will be approximately £80 per person for 2 nights, breakfast, lunch and evening meal on two days. To reserve a place please contact tom @ mbswindon co uk.