By MBTom.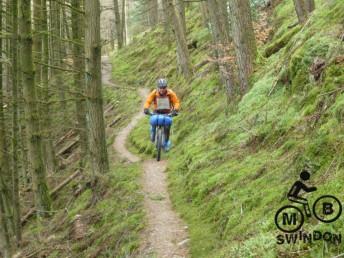 The Trans Cambrian Way is a well known walking and cycling route that goes East-West from the English border at Knighton to the coast near Machynlleth. The total distance of around 110 miles has been done in 11 hours 44 minutes!
There's more info on the IMBA website including their 3 day outline maps. This article on Cyclist No1 has some familiar photos.
We found the complete route maps on mudandroutes.com: day 1, day 2, day3.
Our Plan (Kate's Plan)
We set out to do it in 4 relatively easy days.  
From – To. Miles/km. Ascent in m/descent in m. Maps. Staying at.
Knighton – Rhayader.  30/49  1148/1012  OS Map, GPX.  Staying at Beili Neuadd () near Rhayader.
Rhayader – Pontrhydfendigaid. 27/44  745/902 OS Map, GPX. Staying at The Black Lion.
Pontrhydfendigaid – Cwmbiga. 29/47 1172/1029 OS Map, GPX.  Staying at Cwmbiga Farm.
Cwmbiga – Machynlleth. 20/32  744/1043  OS Map, GPX. Return taxi with Lloyds Coaches ( ).
Total: 106 miles/171km 3812/2987m (net loss of 175m)
Preparation
In the days approaching the ride  we'd heard that there was still snow in mid Wales. We decided to throw caution to the wind and have an adventure.
I was going for proper old school navigation using  OS Landranger maps in an Ortlieb bag hanging round my neck. It made me look like bit a of knob, but that's no change from normal and it worked really well.  I spent an hour or two copying the whole route from gpx in Bikehike.co.uk onto the 4 Landranger maps that cover the area.
With a group of seven we were able to share some kit, so we had things like shock and tyre pumps and a spare tyre amongst us. I'd opted to not bring spare shoes which was a mistake really. Two sets of riding kit was not necessary either. Whilst everyone else used one heavyish pack I'd decided to spread the load using a Wildcat Gear "mountain lion" front harness and a dry bag from Cotswold Outdoor. I found that this worked really well though the extra weight over the front wheel took a bit of getting used to and wasn't so clever in the snow. It's all about compromises – I had less weight on my back.
Day 1 – Friday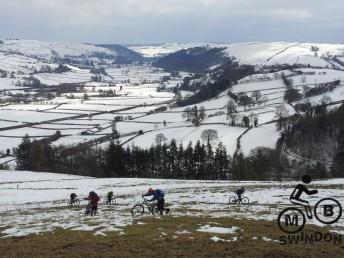 Arriving in Knighton at 10am  on good Friday we observed that there was still a lot of snow on the hills. The woman at the Offa's Dyke visitor centre assured us that there was a lot less snow as we went West. We had a group of seven riders; all fairly keen and of varying fitness but up for the challenge of a four day ride.
The first part of the ride on lanes near Knighton was snow free. Moving onto out first section of bridleway at Knucklas introduced us to some fairly deep snow drifts, particularly on a sunken lane. Trudging through this reduced our speed to just over 2mph – less than normal walking pace. 
I remember looking at the map  and thinking "maybe we should use some lanes to avoid the snow on the next hill?". That would be cheating though, so we followed a short descent onto the bridleway that lead up into the hills.
We tried a variety of techniques to improve our progress and for a while followed a maze of green patches through fields and gateways running parallel to the track. Assessing the situation at 1:30pm we realised that we'd covered less than a third of the distance and the outlook wasn't improving on the hills. I was also very cold – my feet had sunk into a deep puddle in the snow a while earlier.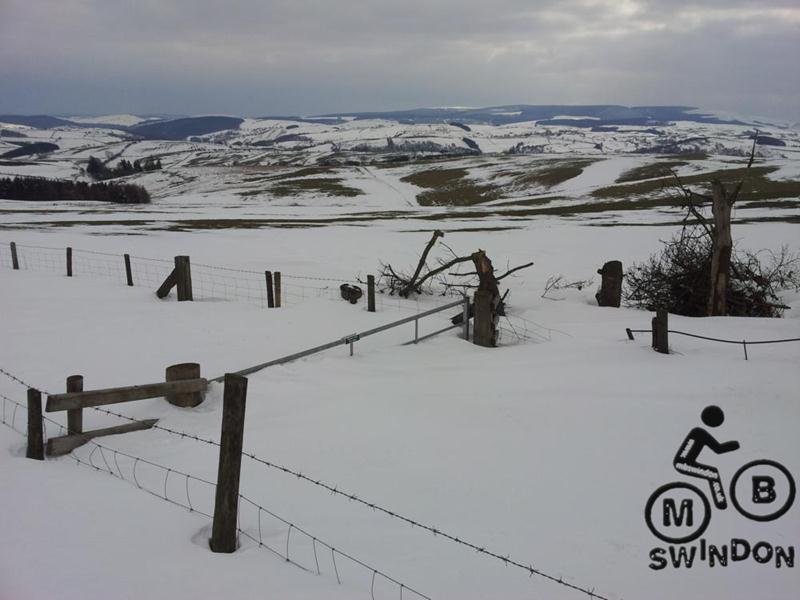 We decided to cut down some lanes onto the local B road and speed up our rate of progress. This was a smart move because an afternoon riding on clear roads allowed us to catch back up with our schedule, something that was out of the question in the snow drifts. I have to admit that I was quite disappointed at abandoning the planned route and in a rare moment of negativity wondered what the point was of carrying on. 
The Beili Neuadd was as welcome sight and offered us: warmth, dry, food, drink and rest.  Gary and myself stayed in the B&B whilst the rest of the party were in the cabin. There's also a bunk barn option, something to bear in mind for future trips. This is a great place to stay if your cycling; very comfortable, a good meal and breakfast and a packed lunch.
I decided to have a go at raising my temperature by climbing into bed but after 2o minutes I was no warmer than when I started – a serious amount of heat had been lost during the day. 
Day 2 – Saturday
After a good sleep and a big breakfast things were looking up for the second day. We'd spent some time looking at the Elan Valley facebook page and also asking localish rider Matt Page of ACycling what he thought we should do. The news was that the main Elan valley road was now open after being cleared though there were deep drifts either side of it.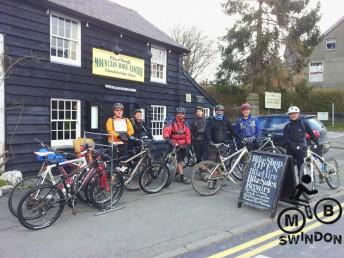 I put on an extra layer of clothes plus a new innovation – plastic bags outside the socks to keep the feet dry. A big thanks to the owners of the Beili Neuadd for sorting the bags for me and generally being very relaxed about our muddy kit.
We called in at the Clive Powell MTB centre in Rhayader to spend an hour or so looking at multi tools (James). We were advised to use the mountain road but via the reservoirs for a more gentle climb. This turned out to be a good plan. Riding along cycle tracks and roads isn't the sort of thing that would normally excite us. Following the cycle track out of Rhayader then we started to get into the groove. This is touring; we were on a journey under our own power. There were views of reservoirs, hills and snow. The sun was shining. We were making progress. As James said "if I was older I think I could quite enjoy cycle touring".
We passed a few landmarks that we recognised from our Elan valley ride with Red Kite Events. For the next few hours we followed the mountain road and at the highest point we had a chance to assess the pass that we would be following on the third day. It looked fine.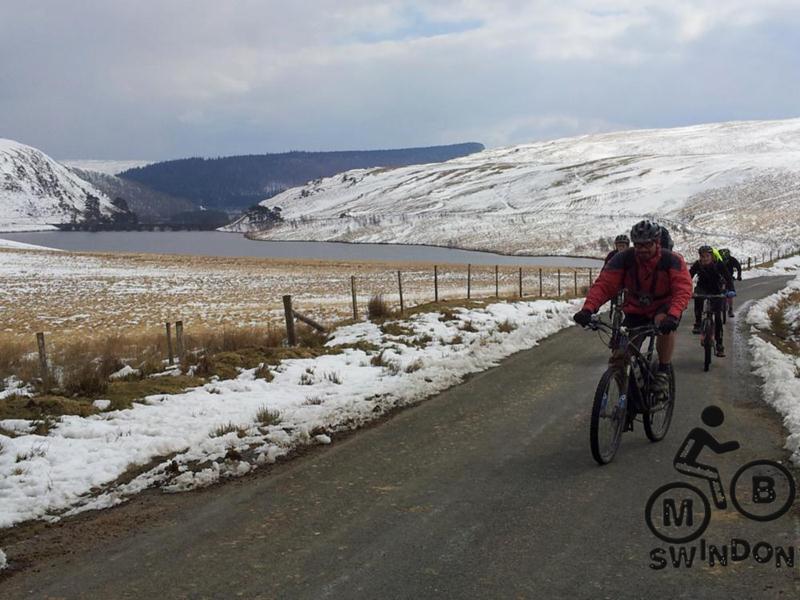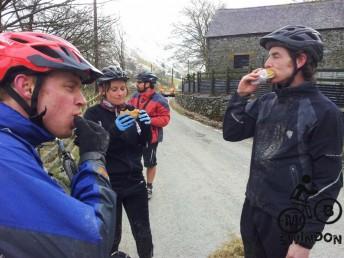 The descent to Cwmystwyth took us past an old quarry which was a bit of a playpark (for James anyway). As we descended the valley we found that there was actually no snow to the West. This gave us a great opportunity to follow the day 3 route in reverse. The bridleway cuts a corner off a track near a farm on the outskirts and we found that the owners are obviously not at all happy with anyone using the track – we were given very clear verbal advice about which gate to use! I guess that a steady stream of trans Cambrian rider pass their farm. 
Our  morning of riding on roads with deep snow around had prepared us to fully appreciate mountain biking on dry trails with the sun shining. The climb up the foothills in the late afternoon was a real high point. We encountered some snow at the highest point so reverted to pushing the bikes over the crispy snow.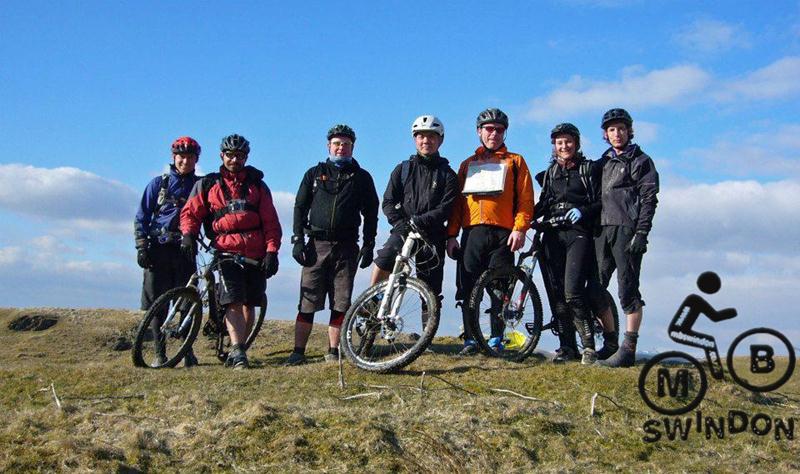 On the descent Ben found a very deep hole using his front wheel. It was a drainage culvert that had been covered with a shell of snow and easily up to waist height when James stood in it.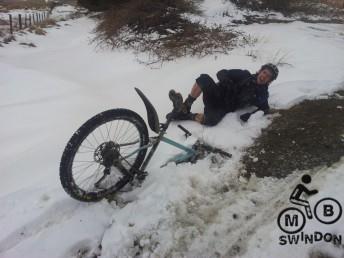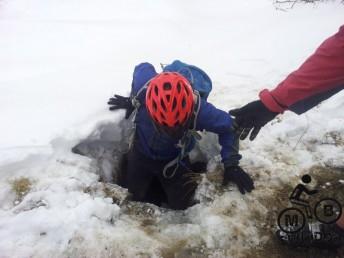 Our day finished with a fast road descent to the place with a very long name, Pontrhydfendigaid, and the colour coded pubs: The Red Lion and the Black Lion. It would be fair to describe the hotel as sound but slightly battered at the edges and with a very friendly owner who gave us free beer and bonus chips.
I was really enjoying this ride by now. There's something very satisfying about the pilgrimage; making daily progress to a target that offers simple pleasures: warmth, rest, food, drink, sleep. We had managed to pick a route through the snow and arrive at our destination and there was sense of adventure in not knowing what we'd find next.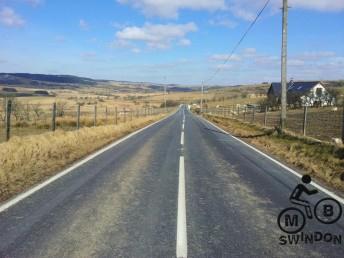 Day 3 – Sunday
Day three started with a big climb. On the plus side the sun was shining in a cloud-free sky. Since we'd already done a fair amount of the route on the previous day we opted for a B road shortcut and straight into good riding in the woods near Cwmystwyth. I took a slight creative chance on the route out of the woods which meant that we followed a track that's not strictly a bridleway. We had been observed from a distance and a quad biking farmer approached and welcomed us to the area. We put on our best innocent faces.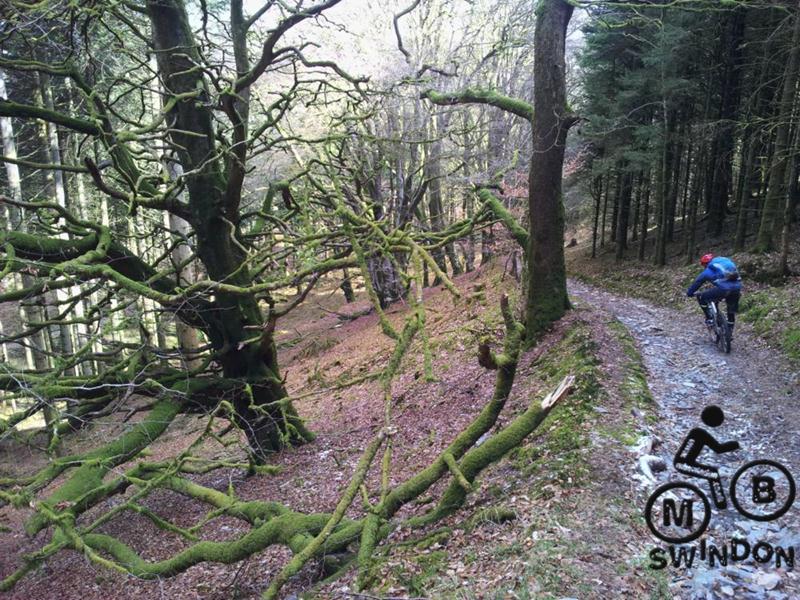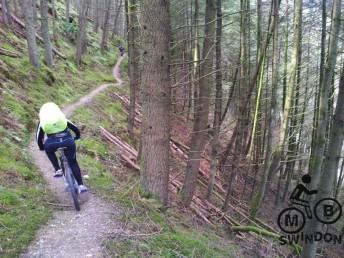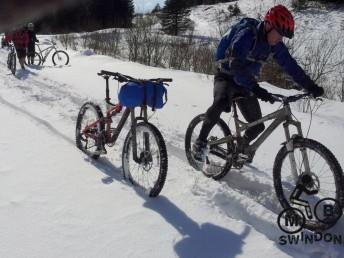 The pass over to Llangurig reaches an altitude of 540m and we had no idea what snow conditions were like. The early sections had been cleared by a tractor, the next section required a bit of walking and the tracks in the forest on the south side of the hill were generally fine. As the track rose up through the trees we turned a corner and suddenly it was quite deep snow.There was no chance of riding in this so a brisk push was required.  On the other side of the hill there was clear track but this was a false start  and a long walk was required. Towards the bottom of the hill the angle of descent was steep enough to allow riding for a while but it was generally snow bound all the way to the road.
After following a short section of bridleway on the other side of the A road we decided to cut any losses and use lanes to bypass the final woods. This looked like a good decision as we pedalled up through the woods on the other side. Deep snow drifts were present and it would have taken us several hours to walk through them.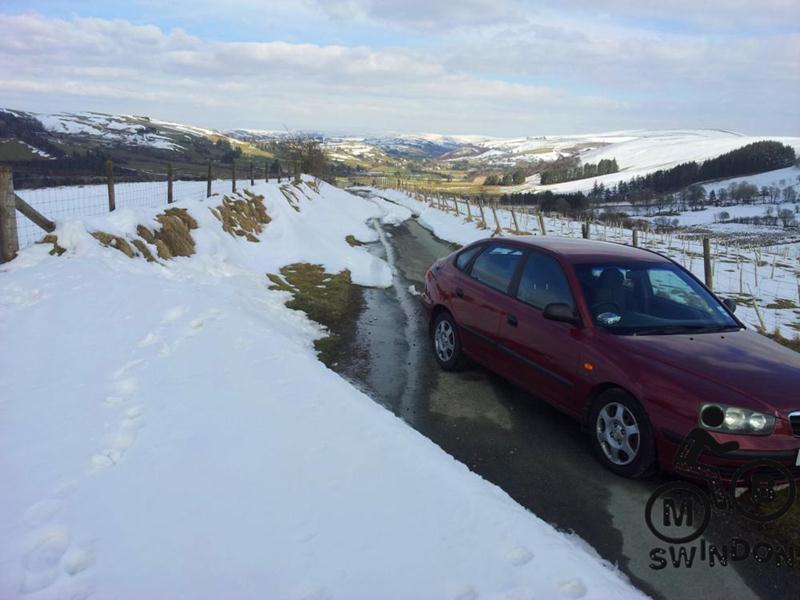 Cwmbiga is an award winning eco B&B and clearly a well executed restoration project. I stayed in the farmhouse whilst the others used one of the cottages. This was a very up together place to stay and we had another great home cooked meal including pudding.
Day 4 – Monday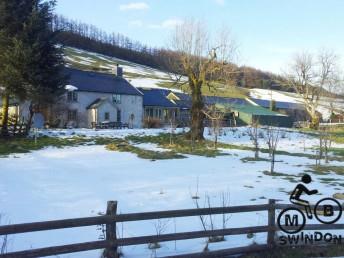 After my tour of the heat store and boilers at Cwmbiga and loaded up with a great packed lunch then we were ready for our final day of riding. Being a shorter day then we had a fair chance of following the whole route even though there was snow on the hills.
The early sections of hillside were quite easy going and we made good progress. Conditions became more challenging as we approached the scarp at Uwch-y-Coed. A cornice had formed  and we had to carry out the "mountain bike ice arrest" when climbing down it. Apart from James who had a go at riding it on a diagonal. A plan that worked really well until his front wheel stopped and he flew head first down about half the slope. Fair play, it's a quick way down.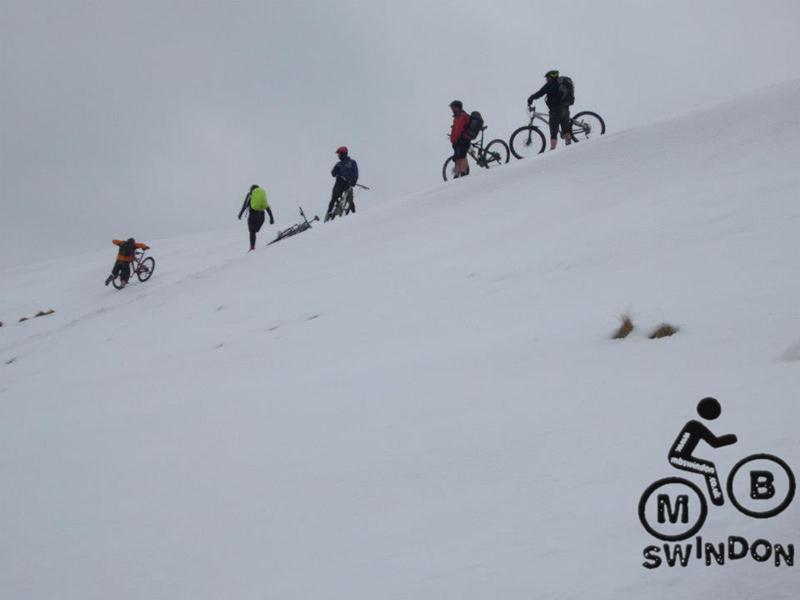 There was an icy wind blowing over the edge of the scarp and drifts up to the top of fences. The snow was quite hard packed though, so footsteps were not too deep. We could only imagine how great this section would be on a warm and dry day. The rocky descent had large sheets of ice so we had to ride and slide down carefully. The view was impressive and the bottom of the valley looked a lot warmer.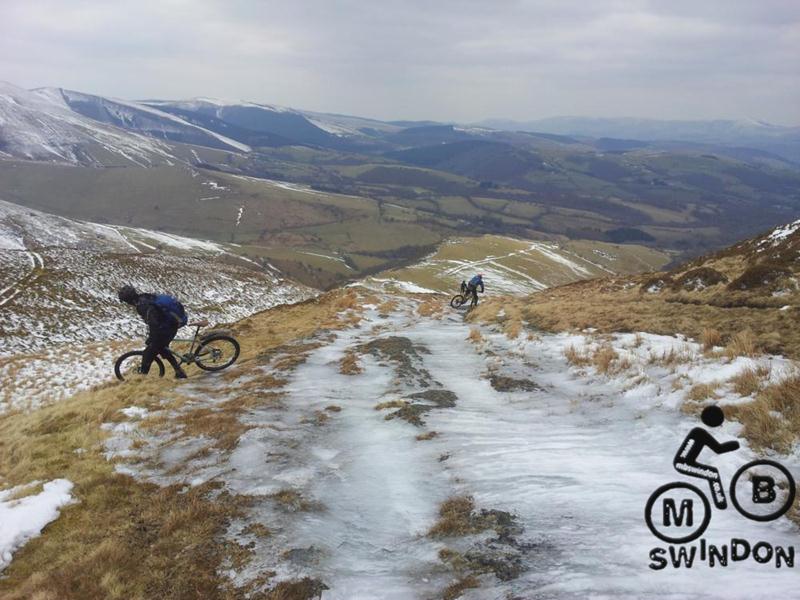 The final section of the route used a few lanes and bridleways to work round the valleys before dropping into Machynlleth. We spotted some Mach2 and Mach3 signposts (Mach trails route map). We fell for an incorrect sign post stating "footpath only" near Bwlch (it's a restricted byway i.e: open to all non-mechanically assisted traffic)  so we turned right and followed the bridleway to Forge. This wasn't a bad option really and is part of the Mach2 whilst straight on was Mach3.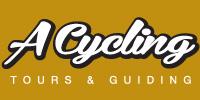 We called in for tea and cakes at the Wynnstay Hotel and then finished at Lloyds Coaches for our minibus trip back.
Overall a really great trip. We want to do more of these. Keep an eye on the club events page plus consider the ACycling tours (club discount offers).