So, after an absolutely rubbish few weeks, of rain, rain and more rain, what would the ladies day weather be for us……………….. Oh yes………………. Beautiful, warm sunshine!Get in there!!  Yet again, we were blessed, and again, thank you weather gods.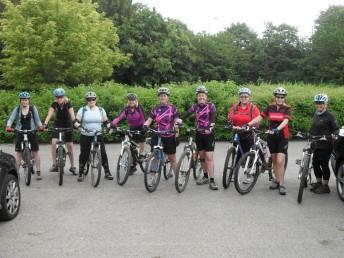 So, a great turn out for the days riding of the Croft Trail, with Sara, Marion, Debbie, Kath, Kerry, Mandy (TF), Helen, Sarah, Jackie and Kat.
Lots of new ladies, which was absolutely superb to see (from the pic's & feedback, it looks like they had a good time!) and lots of our regulars, made this mud fest a most enjoyable day.
A nice little guided tour first lap just to introduce the new team members, and remind the regular team members, actually how the trail was laid out, and for some, it was a first time viewing of the triangle (good job guys! we observed the woodwork in there, but that was it!) We missed the first section of woodwork on the red on the advice of Pete, as apparently, 'lots of people had been slipping off Friday!!'
There was most definitely a lot of slipping and sliding (on the mud) throughout the lap, and everyone was feeling it by the end, not only in their legs and lungs, but also in their hands and arms from holding on for grim death!
After the first lap (and a minor crash, which resulted in an introduction to what is normally the dry stream on the triangle exit) we felt the need for a quick cake break to replenish the energy.
The new ladies did us very proud on this , and our usual cake break, turned into a picnic, with some awesome sausage rolls, quiche, cheese scones and all manner of savouries coming out, to go with the stunning 'Kat' brownies, and some of my usual offerings.
After a bit of a munch, the ladies were up for another lap. A few wanted to miss the triangle out (the exit is tough!) so we split into 2 groups at the entrance to the triangle, and boy did they fly around! When the triangle group got back to the car park, the blue team had already got the bbq lit, the picnic benches out and the pimms on tap (well, bit of an exaggeration, but they certainly got there sharpish!). There was a lots of 'note comparing' and mud exams going on, and a couple of the ladies had to leave for prior commitments at this point, oh, and who should turn up 'to see how things were going', Chris Hopkinson, who had just been leading a social ride around coate water, who actually just came on the scrounge for cake!!!    Boys!!!!!!!
There were a couple who were up for another lap, so away we went. This time we thought we would try the 'people slipping off' wood work, to find, not one of us slipped off!!! Wonder why that was?!?!?!?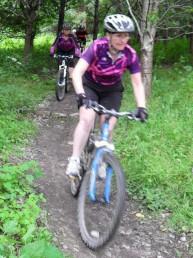 Just before the rock spine, there was some discussion, hard tails v full suss, which is better, does it make that much difference etc, so, what did we do? We all swapped bikes!!! Well, I don't know how Sarah B felt giving up her shiny new full suss (well sort of shiny after 2 laps), but I certainly felt like bambie on a unicycle trying to ride a hard tail again. However, the recipient of my bike took off at break neck speed! Which is better? Hard tail/full suss/mens/women specific/specialized/giant/trek, the list goes on.     Try lots, work out which feels right and decide for yourselves!
A fun filled day, with lots of laughs, as is normally the case, and lots of cake (we needed it after burning all those calories in the mud)
Hopefully a nice introduction for some of the new ladies and it hasn't put you off riding with us again. Wyre forest is the next ride for the ladies day, which Sarah Peters will be leading for us, but, don't forget, ladies days are just for ladies, novice, novice plus, club rides are for everyone, so please, feel free to join us on those as well.  The more you get out and pedal……………. 
Kat is also looking for some ideas and feedback for her Breeze rides (if none of you know what I am talking about, Breeze network is a dedicated uk wide ladies only group, with Breeze Champions in all areas of the UK, setting up and organising, short, non technical ladies rides, taking in cycle paths, tow paths, etc, and is designed to introduce ladies who have never ridden before, are nervous, or who don't feel confident riding with the 'lads' into cycling in a social and relaxed way). Kat is our local Breeze Champion and definitely the expert on this (kat@mbswindon.co.uk)
Great day ladies, as always, really enjoyed it, and hope to see you soon (events page)
Sharon
PS: If any of you fancy our Brechfa trip, I only have 2 places left!!
PPS: Here are some snippets from Facebook following the ride:
 "Thank you everyone for today, everyone was very friendly and welcoming. Made me realise how unfit I really am!" – KH 
 "Thank you for the Ladies only MTB event at Croft this morning…! A lot of mud and puddles, and shreeks of alarm at some of the challenges…but good fun…after getting home and removing copious amounts of mud from myself and bike I paid up my membership online." – MM 
"Thanks to the ladies, especially Sharon, for such a warm welcome this morning. Great first experience of the Croft Trail. So much fun and lots of mud! Can't wait for the next time!" – KW
"Thanks Swindon Ladies for a fab (nickerless) mud-fest today. This month's revelations slightly more mundane than the last's!" – HR 
"Thank you very much Sharon and all the other ladies for such a fun morning on the Croft Trail. I didn't think I would be very adventurous for my first time but it was a blast and I'm ready to learn more…See you soon!" – DD