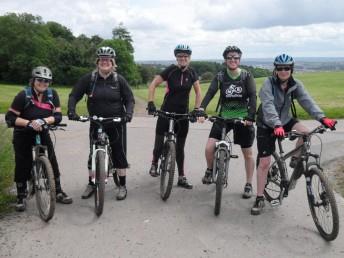 By Sharon Bassingdale
Well, yet again…….the weather gods were looking down on us and gifted us with a stunningly beautiful, sunny, warm day! What they didn't gift us with was telepathy!
Wyre Forest had been deemed un-rideable due to mud levels so Ashton court was chosen as the new venue. I checked the website just to make sure there were no events on there. There were not. However… on arrival at the golf/cycle centre we were greeted by a set of chained gates and a notice saying that there was no access as they were resurfacing the car park for the next 3 weeks! I spent all last weekend there and there were no event notices up. I was annoyed anyway at no one telling me it was shut.
Awesome.
After a hastily rearranged meeting point then we were sort of organised!!!!
Sharon and Lydia got a little frustrated driving around trying to find Leigh woods, I got a little cold waiting at the entrance to re direct people, and Mandy got a little frustrated at waiting for us and toddled off on the trail leaving Sharon, Lydia, Sarah and myself trying to find her. (ladies rides are much more organised normally, It's my OCD you see!).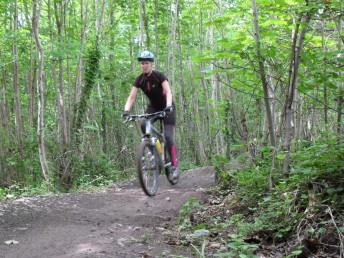 We eventually managed to catch up with Mandy and we also picked up another bod, Helen who had parked in a different car park.
So first lap, Ashton court! Totally new for some, very very familiar for some others who'd spent 12 hrs riding round it on the previous weekend.
Up the gravel track to the first part of the Nova trail, nice, swoopy, flowing section, where you could get up some real good speed and take off if you so wished.
Sharon Yeates spent the day checking out the trail in preparation for her contractually obligated Oktoberfest agreement. She'd shaken on it with John Proudman last weekend. After a lap she was still up for it!
We took in some of the technical parts, with most having a go at the optional red route. Sensible people who did not have the inclination to do the climb back up stayed at the top. I stayed on the bike this week new which was met with a few surprises. Everyone got down, in style, in one piece (go girls!!!!). We continued on and I gave a guided tour of where we were on the trail in relation to the circuit/camping/toilets from Bikefest until we got back down to the gate house. We all felt that it was lunchtime so we had our picnic in the park!!!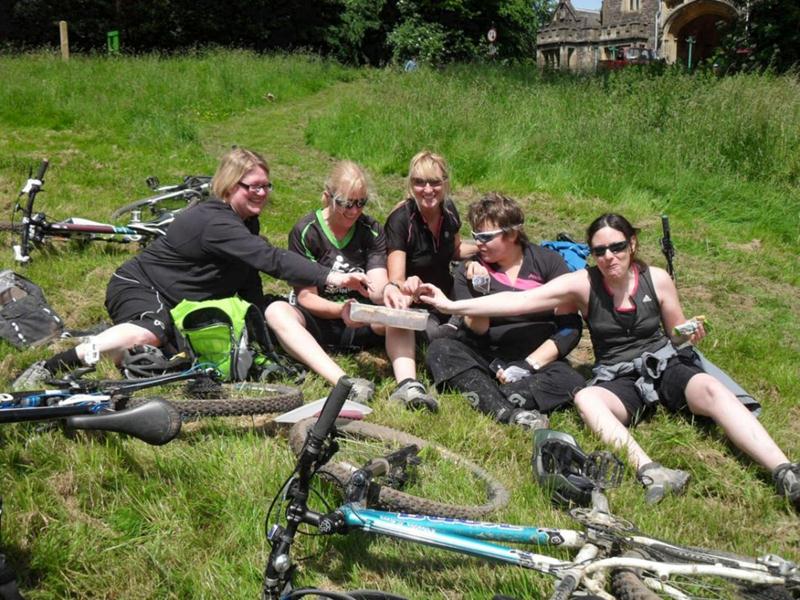 This was a great opportunity for the ladies to really 'get to know each other' and 'familiarise themselves' with each other and the conversation flowed. Mandy 'TF' Hughes raised an interesting point, which immediately prompted a barrage of laughter, a lot of discussion about whether this occurred to others, and potential solutions. As they say "what goes on on tour"……………. This also then prompted the 'pants or no pant's debate, which, has to date (17/@2136) prompted 48 comments on the facebook. Interesting!!!!
Hopefully I can trust Tom to have added some 'evidence' to the ride report.Some felt that maybe….. trying the theory…. may be a good plan…. Helen 'scissors'Rebello. This then ensured that everyone's stomach hurt, and not through over eating our cakes before the boys say anything, and that we were ready to experiment.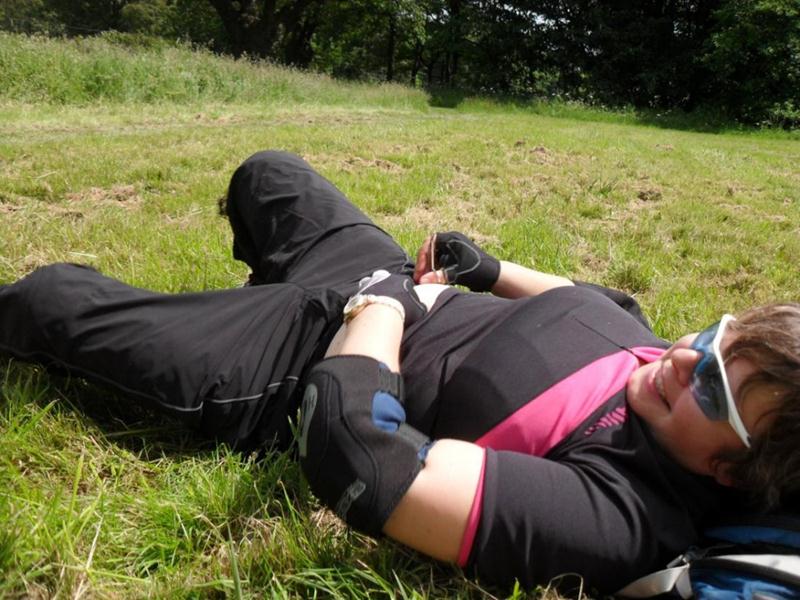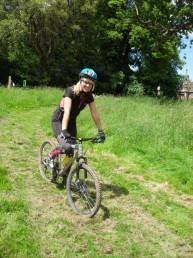 Some photos of Mandy 'TF' coming down to the picnic area also prompted some hilarity. Anyway, once packed up and our 'rubbish' appropriately secured we went over the road to Leigh Woods and Yer Tiz, where we rode stylishly over the tree that has fallen over on the up hill bit at the start. Lots of 'manuals' and 'front wheel lifts' practiced over that (ok, discussed) and away we went.
Great, swoopy, simple, fairly flat but not too pedally and all the ladies took turns on some skills loops obstacles and some trail obstacles which was great to see.
Unfortunately Lydia, Helen and 'TF' had to scoot after Yer Tiz, so we saw them back to their cars and Sharon, Sarah and I snuck in anther lap of Ashton, with Sharon practicing her lap times ready for Oktoberfest and Sarah practicing her jumping/manuals/berms etc. Ok, may that last bit wasn't quite true, but anyway, the ladies definitely increased their speed and skill set on the 2nd lap. Practice does indeed make perfect!
Suitably tired, we headed back to our cars, or, in my case back to Nigel's van which I had stolen for the day and home we went.
A bit of a slow start (I was annoyed at no one telling me it was shut) an ace day with ace ladies, who I really do feel that I know quite well now. Thankyou once again weather gods.
Next ladies ride is at the Croft Trail. I shall try and rearrange with Sarah Peters to ride at the Wyre Forest in August.
Thankyou Ladies, hope to see you soon, and don't foget Kats breeze rides, the normal club rides and the novice plus rides that all are welcome to join (see the events page).
Sharon
See recent ladies ride reports including Ashton Court Feb 2012.
More photos of Ashton Court rides.