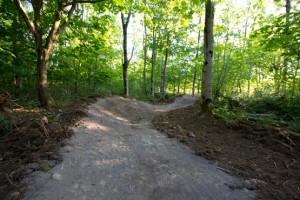 This is a chance to try out the recently redeveloped trails at Ashton Court in Bristol. It will also serve as a recce mission in preparation for the Oktoberfest relay race that's held on the following weekend (event page)
Trail builders Architrail have replaced a load of muddy area with surfaced trail. When we rode it at Bikefest 2011 we found out that it's all really swoopy. See the Bristol Trails group website for the latest news on trail developments in Bristol.
Ride reports and photos from previous visits: Club ride October 2010, Oktoberfest 2010, Bikefest 2011.
We're meeting for 10am at the golf club car park right in the middle of the area (red marker in map below).

View Bikefest Ashton Court + 50 Acre + Leigh Woods in a larger map