Chris Hopkinson writes:
At 6.15
on Saturday
morning I was lying in bed staring at the ceiling. I'd hardly slept a wink due to a trapped nerve in my shoulder giving me some grief and it now seemed like the wife had very kindly shared her cold with me. I'd rebuilt the full suss bike
on Thursday
after not riding it since the summer, when I took it out for a test ride
on Friday
night the drivetrain felt shocking and I really didn't enjoy the ride. To be honest if it wasn't for the fact I was the designated ride leader for the day's trip to Afan I'd quite happily have stayed under the duvet until at least lunchtime!
As it happened I was ride leader for the day and I'd also offered a lift to someone so out of bed I climbed. I'd packed all my kit and put it in the car the night before so with a fresh brew and a sausage butty in hand I headed out to the shed to replace the xt cranks on the bike with an old deore set I had knocking about. After a quick ride up and down the street it felt a little better but the old cassette still felt a bit rough. Oh well, it'll have to do.
When I arrived to pick up my companion for the journey West he came out of the house with a hardtail. Now I'm not generally a nasty person but as I loaded his bike onto the carrier I felt a little smile on my face with the thought that there might be someone who finished the day feeling a little more beat up than I did. Sorry Alan!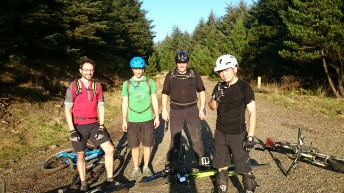 After a few wrong turns we arrived at Glyncorrwg a little later than expected and didn't see any familiar faces. As I walked over to the on site bike shop I bumped into Richard Ford, at least there were three of us. A few beer tokens lighter I walked out of the shop with a new cassette and figured I'd take a chance on running it with an old chain. More people had turned up and after a little faffing eight of us set off up the White's level climb at various speeds. Rich had never ridden White's level before and I think it's safe to say he found the climb, erm……….interesting! When we reached the top I promised him that the next section, Windy Point, would make it all worth it and left him to catch his breath while I whooped and hollered my way on, Rich followed me a little while later and the smile on his face said it all. The rest of the group had opted to ride the black section at the top of the climb and it wasn't long before they came whooping and a hollering down Windy Point to join us, all accept Paul who'd taken an unscheduled sit down and hurt himself in the process, safe to say he wasn't going to enjoy the rest of the ride down the mountain much. The next three sections were dispatched with no such drama but lots of fun and it wasn't long before we were sitting outside the skyline café seeing of some mansize portions of chilli jacket potatoes and flap jacks. Yes! You read that right! We were sat outside in glorious warm sunshine wondering what the hell was going on. Not only was it one day away from December but we were also in Wales!!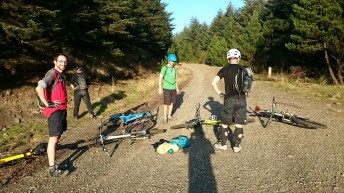 Rich and Sean had decided they'd ridden enough for the day and Paul's injury meant an early shower for him so five of us set off up the climb again to ride Blade. I'd ridden Blade earlier in the year but it seemed I missed out a whole section, as it happened it turned out to be some of the most fun trail I've ridden in a long time and once again there was much whooping and a hollering! The last time I rode Blade it had only just opened and was a muddy, mushy mess. After having almost a year to settle down it's become a great trail and a superb addition to Afan. If you're heading down there anytime soon I recommend you give it a bash.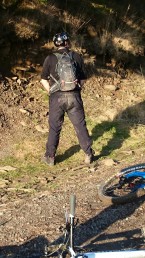 With time against us we opted to take the shortcut down an old section of Skyline which spat us out onto the final descent of Blade. It's quite a challenging descent which saw me make a wrong line choice on a rutted out turn which put me on my backside. Then, literally fifty metres from the end, a lapse of concentration had me doing my best superman impression and ending up a little dazed and confused lying upside down on the side of the mountain. With no more than a few physical bruises and a few more mental ones I and the others rode back to the car park. We all agreed that it had been a thoroughly enjoyable days riding made even better by the most unseasonal weather and something we should do again very soon. Massive thanks to Alan, Rich, Graham, Gary, Paul, Sean and Phil for helping to make it such a fun day out.