Sunday 13th March 2016
For those of you who have ridden the Goshawk Challenge before, you know the script …it's all about pain management.

Each year we try to introduce some new mental and physical hurt into the route and you will be pleased to learn that for 2016 we've stuck to our roots, lots of them in fact. As with previous years it will be a tough ride.
As you can see, the organisers of the Wentwood 50 do not shy away from telling you what's in store when you enter this event. That's why I didn't enter it. Though many from MB Swindon did and some were talking about it on a club ride I was leading a few weeks before.
"It's only 3 weeks to Wentwood, I need to get some training in."
These comments went in one ear and out the other, I was only glad I'd provided a few hills for people to climb to prepare for it. Little did I know I was going to take up the offer of a ticket when one of the gang would later realise they couldn't make it.
So with approximately a week to go, I found myself with an entry into the Wentwood 50k aka Goshawk Challenge; time to give it some thought. Which bike? Which pack? How much water to carry? What shoes to wear and what colour jersey? And was I going to do the 25 or 50k route? 50k of course, and my grey and red FiveTens in case you were wondering.
The weather was very kind to us and we had been treated to a few dry days. With blue skies on the day too, the mood at the start was very good.  A dozen or so were present from MB Swindon; there were also a few more from neighbouring club Dirty Saddles and I met some friends from Half Way Up MTB and one lone rider from Granny's Ring MTB, a club based in my home town of Pontypool.
Enough of the warnings of the "toughest 50k you'll ever ride" and "I rode the course in the week and it's brutal" (this guy only rode the first 25k too) – it was time to ride.
At the start 300 riders gathered for the road climb, designed to thin the pack out a bit and get any teething bike issues sorted before you entered the Wentwood Forest proper. There was a real mix of riders, some clearly geared for a race and others for a leisurely ride on the trails and with intentions of reaching the 25k food stop and going no further.  My plan was to do the 50k, keep riders around me so I knew I wasn't last and pace myself for what I hoped was to be a 4 hour ride.
It was apparent at the halfway mark I was not going to achieve the 4 hour target. In fact 5km past the 25k point I wondered if I was going to even finish at all. The first half of the ride, was indeed brutal! With already almost 800m of climbing completed I was hurting – long with most others. The 25k point marked the major food stop en route and the end of many riders journey around the route.
Support your fellow riders
Natasha and Sharon came across a lady from another club, Bigfoot Mountain Bike Club based in Gloucestershire, who was struggling with a bad cold and finding it tough going so they they decided to stay with her. It's demoralising to be on your own feeling rough so they did the decent thing of helping out. Paying the karma forward so to speak, shortly after they ended up receiving some moral support themselves from one of the friendly volunteer marshalls who turned out to be from Swindon.
All of the marshalls, food and water stop volunteers were very helpful with advice on the next section and making sure you took some refreshments. They had obviously been briefed on what was in store even if they weren't actually riding.
Tom Scott decided at 25km and 3 hours of riding that he was going to push himself to the finish line, having only managed 36km of the course in 2014 he wanted to finish it this time. Unfortunately with some time and safety requirements for the course he missed a cut off and was directed along with a number of other riders to finish via a little short cut. He didn't manage the 50km, but still clocked up 47.6km. Fair play and well done for digging in.
The second half
The reward for pushing past the 25km point was a much wilder and more interesting second half. The singletrack became a little tighter and the descents more fun: I would gladly ride the second 25km again as it was just the sort of riding I like. If I hadn't been riding for 2 hours at this point I could have managed all the climbs with a bit more ease and enjoyed the technical elements more.
I hadn't seen anyone from MB Swindon since the start climb, but I caught sight of Hazel Ross soon after the feed station and thought maybe I was doing better than I actually was. Hazel is a good rider and to have caught her after 25km was a real boost to my morale. It took maybe another 2-3k before I actually caught up enough to talk to her mind you and then I found the only reason I was this close was because she had broken her chain. Damn it! But I was lifted by seeing a familiar face and had some company for the last stretch.
As I didn't ride with a partner or make an effort to stick with anyone in particular, my only gauge apart from the average speed reading on my Garmin, were one or two riders that seemed to be riding at the same pace. Occasionally I would look up while on a climb, only to be passed by the same red jersey and bright green socks that I had whizzed past on the last descent.
"Hello again!" became the familiar greeting… "I'll see you again in 5-10 minutes…" the reply.
I am sure that at the last few water stops each Marshall told us there was only 10km to go, why wasn't the finish line getting any closer? Then after a long uphill section of road the last bit of dirt track it was a Tarmac zip to the finish.
5 hours and 5 minutes after the start I finally crossed the finish line. I won't lie I was hating the course and the organisers at this point for subjecting me to this pain and agony and then I realised I didn't have to do it, no one made me.
This is the thing with mountain biking the way I approach it, no one makes me ride. No one forces me out in the middle of winter to freeze and get covered with mud. No one sets my alarm to get me out of bed early on a Sunday morning. It's my choice and my decision. Like Tom Scott the distance wasn't going to beat me, so I stuck to my plan, if it was going to take 5 or even 6 hours, so what!
The final analysis
Some did it in 4 hours or so. Well done by the way to Graham Burgess and Gary Lee for arriving back at 4hrs7 and 4hrs24 (source Strava – official event times not uploaded yet) and for the superhuman effort of Rides On Air and former MB Swindon race team member, John Speed for getting round the 50k in an amazing 3hrs31.
The 25km "team" should also be proud of themselves, it was a big ride and they stuck to their plan. However, the Wentwood 50k threw in a little surprise for them and that 25km option turned out to be closer to 35km by the end.
The initial response from a few of us was "never again", but the more I reflect the more I consider it a challenge to do it again next time. Phil Allum said its "a day that pushes you that little bit further, tests your stamina that little bit more, but the singletrack is so sweet it makes it all worth it!" He's so right, though there could have been some more of that sweet singletrack I think…
So Wentwood Forest, I probably will see you next year, but this time I'll be ready for you!
MB Swindon Riders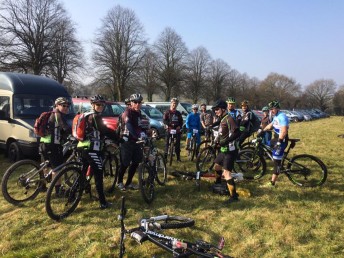 MB Swindon Riders who took part (hope I haven't missed anyone):
Phil Allum
Tim Norris
Tom Scott
Richard Ford
Gary Lee
Paul Broderick
Ben Mitchell
John Speed
Gary Yeates
Graham Burgess
Sharon Yeates
Natasha Lincoln
Hazel Ross
Ania Zielnik