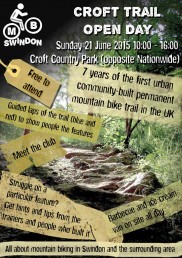 Open day at the Croft Trail. This is a relaxed social event at the trail and an ideal opportunity to come along and find out what the club is all about. We'll be leading regular laps round the trail to show you what we've been up to.
The event runs from 10am until 4pm, just turn up any time.
Throughout the day there'll be the following:
guided rides round the trail
meet the club
barbeque plus ice cream van on site all day
Wiltshire Police will be available to do bike marking from 12:00 – 14:00, so if you want to get your bike registered on the national database this is a great time to get it done for free
Take a look at photos from our last open day in April 2012.