I spent a few hours on Friday afternoon and then again on Saturday morning moving bricks from a location in Chisdeldon.
On Saturday afternoon Phil and myself had a look at all four new sections that make up the start.
Looking at the plan below the Red is existing Red, the Blue is existing Blue and the White sections are new bits. We rather ingeniously call them sections 1,2,3 and 4 in the order that they are ridden. We don't include the very first 180 degree turn in this.
0 : 180 bermed corner
1 : slight downhill with some swoops in it. This was cleared through the trees.
2 : long section. The line for this had already been cleared and dug out and half filled with hardcore. The other half was to be finished on Sunday.
3 : crossover. We finished off clearing tree branches and then dug out the main trail.
4: end loop. This pretty much follows an existing path so we just had to do some clearance work and then dug it out.

We collected a large number of concrete slabs and bricks from another location in Chiseldon.
Sunday morning was bright and clear, but bitterly cold. The ground was frozen solid for the first few hours.
I collected some more rocks from another mystery location. Freecycle has been really good for finding us supplies.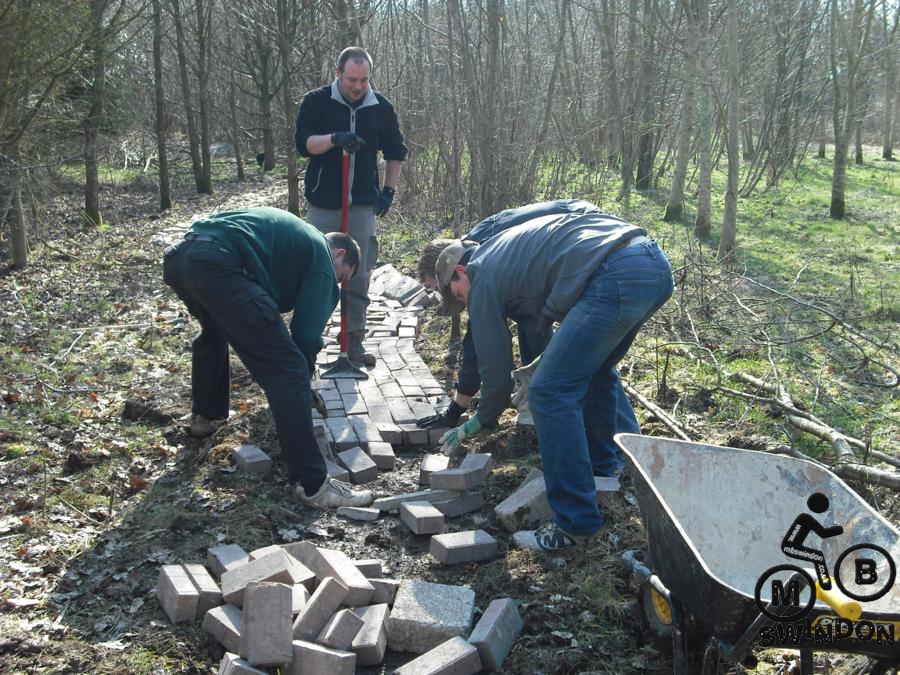 We had a really productive day. We had nine unique people working on the trail over the day. This was really good and we got loads done.
Finished off a 5 tonne pile of gravel.
Section 2 was completely filled with hardcore and given a layer of crushed concrete (actually Limestone chippings).
All the rocks were moved to a secret location for future use on a Red section.
If we hadn't run out of material then we'd have surfaced section 3 (the crossover) too.
Jason brought a special delivery of a large tree trunk too, to be used as a feature. We also had a mystery bag of rubble that had been delivered in the week.
Present on the day:
Pete Toop (White van man)
Jason Oldland (BMW man)
Pete Whittaker (Seat man)
Alan West (Alaaaaan)
Jodie West (Cheeesster come back)
Anonymous man (we know his name but he likes to be anonymous)
Pete Radcliffe (Positive Pete)
Phil Mayger (Vauxhall man)
Tom Stickland (Beardy man)
This was a really good turnout and a really good contrast from the dark months of February when we had no money and no materials and we couldn't see a way forwards. So, thankyou everyone.
We're really excited by the progress and hope to get this new start nailed by the end of the month.
Work is then going to move on to the new Red loop and should provide the opportunity for a lot of creative fun.
We've got another 10 tonnes of free material being delivered by BELL Exhaust & Tyre Centre. They've paid for 20 tonnes of material for us this month which has made a massive difference. See supporters of the trail for credits.
Thanks, Tom.
Photos on Flickr