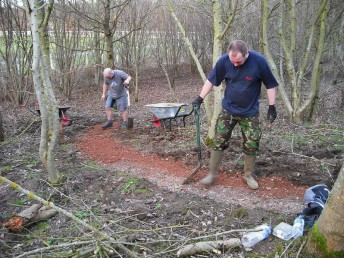 Sunday was also a very productive day. Phil finished off surfacing down by the boardwork.
When I turned up we then sorted out the mud pit after the two short sections of boardwork. Then we used up the last of the gravel piles and filled in a small patch on the south east corner of the pitch.
At that point a biker turned up and said he had an hour to do some trail building (sorry, didn't catch name). So we shifted gravel from the car park to the northern edge of the pitch. Amazing progress was made, must have been about 24 barrow loads in just over an hour. We covered the whole of the loop there
See the complete build diary. Future events are on the events calendar.