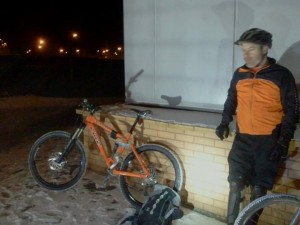 Using the Urban Round loop as mapped by Swindon Borough Council, which takes in part of Route 45, this route is a mixture of purpose built cycle tracks, old railway lines and road. See the route from a couple of weeks ago, as mapped by Phil.
A decent set of lights is required as there are some sections with little street lighting (mainly the old railway line sections).
Although we pass several pubs en route, no scheduled stops are included in this ride.
See the write up from December 2010 for details of this very chilly ride. It has been held on and off during the winter months and proves to be a good midweek ride without the need for a complete hose down at the end of it.