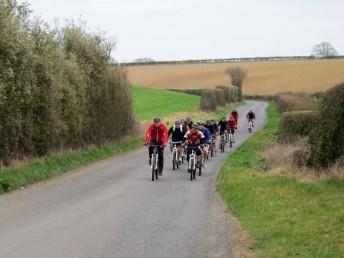 This was an MBSwindon club visit to Witney to join the Witney Mountain Bike Club for a local ride (also on facebook).
We met up at with the club at 10am in a car park outside the local shops for local people on the edge of town. Iain Simms was our guide for the day.
Not long after 10:15am then thirteen riders set off. After following roads through several housing estates we crossed North over the old Burford road and into countryside. After riding a few fields we made good progress on a mixture of narrow lanes and wide tracks. I'd looked at the map before starting the ride and this was what I expected: gently undulating countryside and a network of lanes and bridleways.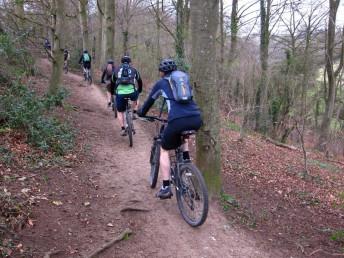 In terms of weather it was sunny and slightly cold compared with recent days. Nearly perfect and it felt great to be about relatively early on the weekend.
Interest levels rose when we reached the river Evenlode near Stonesfield. A narrow path was followed along the edge of this, under the railway and finally over the river. Turning left into the woods gave a steep climb and then a fun traverse along the woods.
We then reached "the bomb hole". This is a large drop on the side of the hill with a very rare property; the drop actually looks steep in photographs. It's got a brilliant run out though so there's little to fear. There's an even larger and steeper drop further along the edge.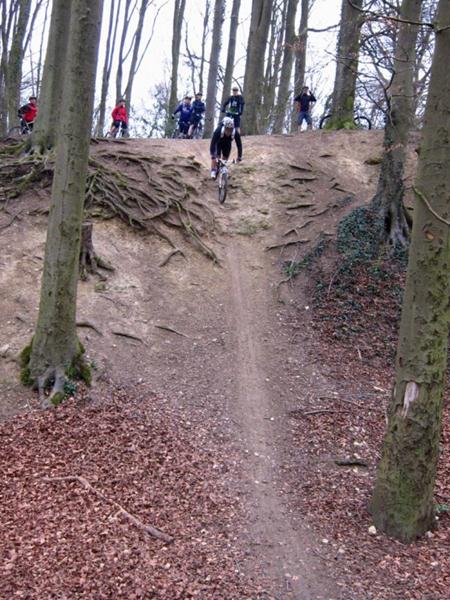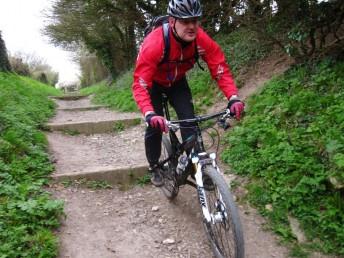 After a bit of a play here we continued on the ride. A figure of 8 loop took us into Charlbury where we stopped for pies and then back round close to Stonesfield. On the latter part of this we were treated to a long, gradual, twisting descent through the trees. It only takes a slight downwards gradient to overcome rolling resistance and allow decent speed to be maintained.
We climbed high in Stonesfield. What goes up must come down, and in this case via a path with a really fun series of drops in it. Kate did have an unplanned dismount on these, but within 30s was proclaiming "I was due a crash" and was back on the bike.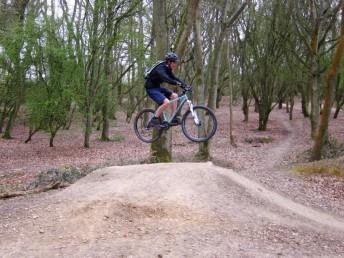 A little later then a descent down a muddy field and a steep ramp to a stream lead us to another swoopy section through the trees. This proved that there's fun riding lurking in all sorts of places out there.
We had a play on some mud jumps in the woods at North Leigh Common plus a large table top for Ben. Then we finished off with some lanes and tracks before the pub loomed on the horizon over the fields.
The weather had turned quite cold by this time, so we downed a pint or two and finished the loop.
We covered around 27 miles in 4 hours of riding and it was surprisingly tiring.
Thanks to Iain and Witney MTB club for showing us the riding in the area. We'll be returning the favour with a Marlborough Downs ride later in the year.