This was a recce ride that Phil and myself did for a future club ride. We stole the idea from a handy set of laminates that one of club members had and then improved it by adding more bridleways and less roads.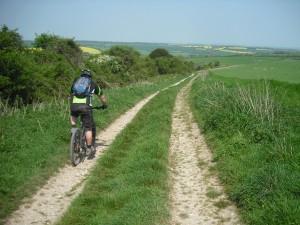 We started from the car park on Win Green. The track down from the tumulus was fun and we found some sneaky single track through the woods which will have to be revisited. This was followed by series of bridleways and narrow lanes. We seemed to be very fast on this. A look at the map confirmed that it was downhill all the way for several miles. We took a surprisingly fun descent into the village of Bishopstone where we found a handy pub – the White Hart.
The route then climbed up the other side of the valley, passed by Salisbury Racecourse and then spent a long while gradually climbing along the ridge. The views from this section were pretty good but the riding itself was on draggy gravel and the steady height gain made for heavy going.
After reaching the trig point on White Sheet hill we retraced our tyre tracks for a few hunded metres before turning off down the hill on a steep bridleway. A fun track descent took us into the back of Berwick St John. There was a very steep climb back up to Win Green and almos all of this was rideable.
Back at the car park we agreed that it was a fun ride and worth a club trip.