---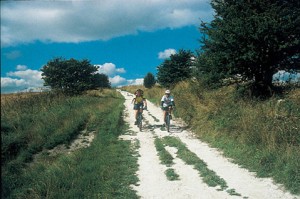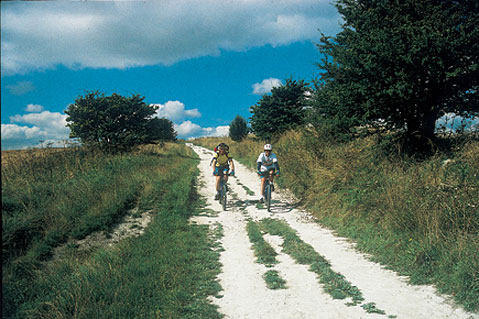 The National Ridgeway is Britain's oldest road. The Western half is open to cyclists, giving just over 43 miles of waymarked track and a few short bits of road. It's not technical riding at all. We're doing it for the hell of it; it's going to be fun.
The Plan
We were originally starting from the furthest point at Overton Hill and riding out to Streatley on Saturday and back on Sunday. This would give two equal days of 43 miles. I had an arrangement to use a pub car park near the start on the agreement of the manager. This all went very well until the owners of the pub found the web page and decided that we couldn't use their car park after all (they did still want our business!).
The Revised Plan
Our revised plan is to start from Swindon on the Saturday. Most of us will ride direct from Swindon, visitors can use the Check Inn at Wroughton. Please email tom at mbswindon dot co dot uk if you want to use the car park. We'll ride from Swindon to the Avebury end of the ridgeway and then ride the whole route to Streatley. On the Sunday we'll have a shorter route since we will have already done a part of the route in both directions.
From the Check Inn to the Avebury end is 11 miles, so we'll be doing 55 miles on the Saturday and 32 on the Sunday.
We're staying at Streatley Youth Hostel. A Youth Hostel is a bit a half way house between a bunk barn and a B&B. Info on Youth Hostels. We've got a few lunch stop options just over half way, with the Harrow Inn at West Isley being a favourite.
Saturday night we'll be drinking beer in Streatley.
On the Sunday we'll be leaving Streatley at 10am and retracing our tracks back to Overton Hill (or wherever we end up parking). Then we're going to award ourselves a congratulatory beer or two.
Map of Route
Click to go to Google map.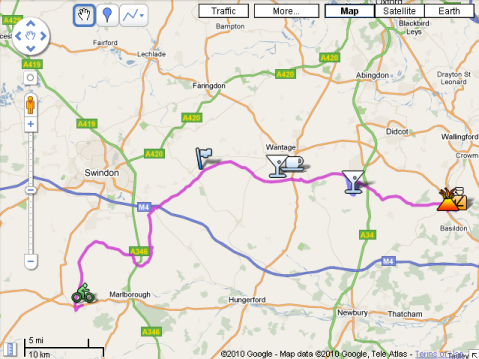 .
One Day Option
If you only have one day to spare then you can catch the train to or from Streatley station which is half a mile from the furthest point of the route. There are trains that arrive before 10am on the Sunday. We'll be aiming to leave Streatley at 10am. If you inform me that you're coming then we'll wait for you at the Youth Hostel. Take a look at the National Rail Enquiries website for details. Check the situation regarding bikes on trains.
Car Parking
We're not sure about car parking at the start/end at present but we're going to try and sort out lift shares to minimise parking requirements. Please tell me where you are travelling from, whether you can offer a lift or need a lift when you book.
Cost
The overnight stay is going to cost around £23 including breakfast. The exact amount will depend on the numbers since we're going to buy group YHA membership.
Preparation
The daily distance isn't ridiculous and it's not a technical trail, but you will need to be reasonably fit. It should be possible to easily cover the distance in around 6 hours. If you have any doubts then come on some of our monthly rides and see how you get on. Our events page has rides added to it at least a month before they happen.
Equipment wise, make sure that your bike is in good shape. Bring a spare inner tube or two. Ideally you will normally have a basic tool kit anyway. Between us we'll have a good range of basic tools.
Make sure that you bring some warm clothes for the evening and rain proofs in case it rains during the day etc. The Youth Hostel provides all bedding, so you'll just need some shower materials and whatever clean clothes you can face carrying. Plan it carefully and you can reuse most of the clean stuff on the Sunday ride.
As with all rides, bring water and back up food. Bananas, sandwiches, chocolate, cake, dried fruit etc. We will be stopping at a pub or the Court Hill centre both days but hunger pangs can strike at any time and things can go wrong with pubs being closed etc.
Booking
In order to book a place then please contact Tom at mbswindon (co.uk) with the following information:

Number of riders (male and female numbers).
Which days you are riding. If you're not riding both days then organising the train or other transport is your responsibility!
Where travelling from.
Can offer a lift – if so how many?
Need a lift.
Mobile phone number if you're bringing one.
I will need a £7 deposit per person in order to secure a place and the earlier that this is paid then the better. I'll need to be confirming the bookings by the second week in January. I'll give you payment details in my email response.
As with all of our events, non-members are welcome to come and ride to see what it's like.
---