Words and pictures by Tom Scott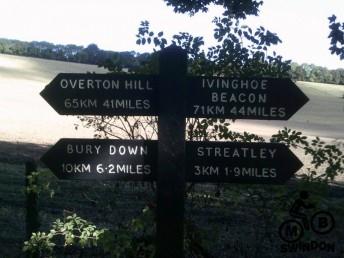 On Thursday the weather forecast was shocking.
Overnight rain, followed by heavy rain, 8 degrees and a 15 mph south-westerly wind.
 The forecast improved a bit on Friday but still looked a bit iffy. Anyway, four of us (me, Graham B, Debbie D and Mark H, decided to brave it and met up at Goring station as planned. The weather was beautiful – not just sunny but fresh as well, with a tail wind for the first few miles.
We met up with Craig D at the start of the loose climb out of Streatley. Craig had ridden over from Shrivenham to meet us. Up the Ridgeway we went, glorying in the fabulous weather. Easy going, firm ground and a tail wind made for steady progress and before we knew it we were at Bury's Lane, where Rafe's recent ride started.
On familiar territory now, up and down towards White Horse Hill and Craig realised he had a flattening rear tyre. Craig runs tubeless and general consensus was a leaky seal or something. After 2 or 3 pumping sessions, Craig peeled off the Ridgeway and headed back to Shrivenham for some gunge. This was the one and only bike problem on the whole ride, which when you consider that we covered about 250 miles between the 5 of us is amazing!
 We were soon steaming towards Foxhill, with the thought of coffees and cake at the farm shop cafe at Chiseldon. The Ridgeway splits at Foxhill; the ancient trade route follows the road to Chisledon and on to Barbury, and the higher route goes up Liddington Hill, down to Ogbourne and up Smeathes Ridge. We took the old route (as planned).
After a well deserved break, Debbie D decided that 15 odd miles back to Lydiard Millicent was going to be enough, so off she went down the old railway like a bat out of hell, and then there were 3.
Stoked up on sugar and caffeine, we flew up to Barbury, over Hackpen (where Graham fell off) and dropped down to Overton Hill. After a celebratory handshake we set off down the A4 to Avebury for a brew and had a rest.
We all enjoyed the ride and counted ourselves lucky that the forecast rain had not materialised, that the track was bone dry, and that no-one had any problems, apart from Graham falling off!