Words and photos by Kristian Price
This was a new ride for the club in the Devizes area. Despite living here for 10 years, it's only very recently that I've found the bridleways and byways used on this ride.  The Wiltshire Council  Public Rights of Way website enables any user to view all the byways, bridleways and footpaths in the area and highlight these more prominently on the OS map.

The weather presenter had promised a dry day with occasional showers and as I cycled into the Wharf car park I thought that might be true, but those driving in from Swindon were reporting persistent rain on the way over. That soon reached Devizes and we were all rushing for the waterproofs, though the wet weather did not last long.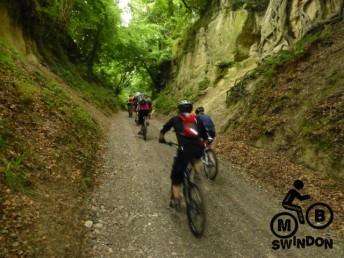 No MB Swindon ride is complete without some faffing, and we were soon removing a loose spoke from Hazel's front wheel with the hope that it wouldn't pringle in the next 23 miles. (Hazel had put in an amazing amount of training ready for her London to Paris ride in early September and had completed 80miles on the road bike the day before!) Once that was sorted the 15 riders negotiated the traffic on the main roads within the town to get to the quieter estate roads and hit the byways to the south, heading towards Stert and Potterne Wick.  It's amazing, really, that within 5 minutes of leaving the house I can be riding a byway or bridleway in the middle of nowhere and with such a great choice for all weathers.
There's a fair amount of climbing on this ride, with the first climb being from the edge of Devizes towards Etchilhampton Monument along the byway descending into Stert, Crookwood and then up again towards Market Lavington. One of the byways here had recently been surfaced by the Council, removing the washout gullies, loose bricks and debris.  I'm not sure this is always a good thing, but these tracks have to be useable for everyone, and the previous descent was hairy to say the least.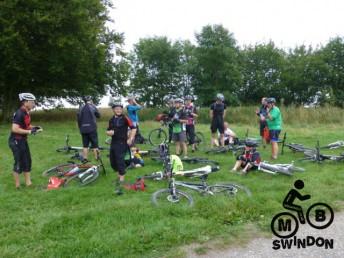 From the edge of Market Lavington we descended down a bridleway towards Littleton Panell which had a loose surface and natural berms in places, which I think everyone enjoyed. It was near here that I received the first puncture of the ride. Lightweight cross country tyres have their benefits, but puncture resistance is not one of them. Moving on, I led the ride down a wrong turn and stumbled upon a few hundred metres of nettles, with various shouts and calls throughout the group accusing me of all sorts of crimes!!
Back on track, we climbed up behind the playing fields of Dauntseys School to Strawberry Hill.  Here in the woods is a large area of drop-offs and kickers and we stopped for a while to have a play on these and take some photographs before continuing onto the edge of the Salisbury Plain Training Area. These drop offs are also popular with motocross riders, as I was reminded when one nearly collided with me deliberately on his way out, despite me standing away from the main tracks.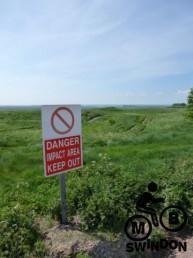 There are plenty of signs on Salisbury Plain advising people to keep out and warning of the risk of unexploded ordnance if you stray from the metalled roads. Thankfully, we were riding a byway, from Gore Cross Farm on the A360 towards Redhorn Hill above Urchfont, and this had recently been regraded and surfaced by the Army, giving a smooth track for many miles and staying away from the fields. This byway is found above the villages of West Lavington, Market Lavington, Easterton and Urchfont and gives good views of the surrounding area towards Devizes and, on a clear day, the Cherhill Monument.  Whilst this area does not have a lot of single-track riding that I'm aware of, there's plenty of cross country style riding, covering many miles in a reasonable time.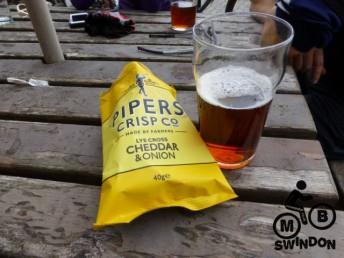 We had a quick break above Urchfont before riding down a very long, chalky and stepped track back to the village and retracing our tracks over some of the route ridden earlier in the day through the fields to the edge of Devizes.  There was a pint or two of Devizes' finest Wadworths Swordfish and 6X ales waiting at the Fox & Hounds Pub on the edge of town.
All in all, I think everyone enjoyed themselves. This was a definite step up in distance from some from the novice friendly rides, covering nearly 24miles on the day.
Thank you once again to everyone who turned up for this ride. It's encouraging when so many people have driven miles from their usual riding areas to attend a club ride, and I hope that we can continue to offer a variety of rides to suit everyone in the club.
View the route: OS Map    GPX – right-click and select "Save As" to save to your computer