by Chris Hopkinson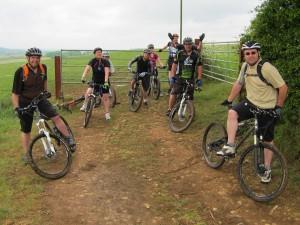 Ten of us made the journey to Wellow in what was the first proper rain we'd had for months. I knew it was going to be a good day because the second I opened the van door and put my foot on the ground the rain stopped and the clouds parted. When Rafe and I recce'd this ride back in March we had a total of 10 punctures between us! I got the feeling the route wasn't going to let us down (no pun intended) as I punctured before leaving the car park. Oh well, a short delay and one spare inner tube lighter and we were off.
The route mainly uses local bridleways and byways. It climbs pretty much as soon as you leave the village. You never really gain an extreme amount of height but it's enough for some steep climbing and fun descents, the first of which brings you back down to the road not far from the start point.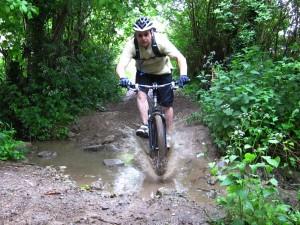 A short tarmac stretch then sends you down the second off road descent. This was slippery enough to have Rich riding part of it sideways. There's a refreshing water splash at the bottom and then you're straight into another climb.
A tarmac descent saw some smoking brakes and then a downhill section of bridleway saw Mike have a coming together of backside and ground. The route's killer climb followed and the comments of "how far's the pub?" had started by the time I'd half ridden, half pushed to the top.
Unknown to me as the ride leader Andy had now had the day's 2nd puncture. Rich and Mike had decided to stop with Andy and they then formed a splinter group. On realising the group had split Rafe was dispatched to find the rebels. During their escape they covered an optional extra five mile loop which took them down and then back up a very steep tarmac hill.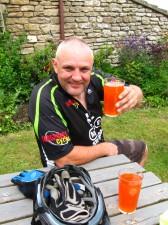 The decision to re-group at the pub was easily reached. The Tuckers Grave Inn makes doing this ride worth it on its own – untouched by commercialism it's a proper old West Country pub. The local cider, although toxic orange in colour, went down a treat.
Suitably refreshed we set off again. This is the third time I've ridden this route and my memory of the direction it goes in after the pub is always a little hazy; I can't think why. A few wrong turns later we met up with some horse riders when Tom stopped to fix the third puncture of the day. The horsey ladies told us they'd formed an association to help keep the local bridleways clear as the council weren't interested in doing it. They asked us if we'd be interested in helping out some time and we agreed it could be a mutually beneficial idea. They told us about a combined horse/mountain bike ride they were planning which sounds interesting. See the MBBA website.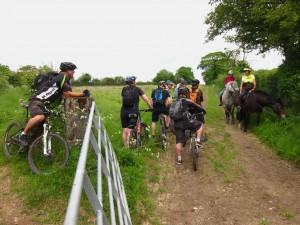 The chat with the horsey ladies had given me a chance to think and get the route right in my mind again and off we went. A ride down a very overgrown bridleway confirmed what the horsey ladies had been on about and saw Sharon shouting in what I can only assume to be an ancient Gaelic dialect – I've never heard language like it and I used to work on the Liverpool docks! Some field side tracks brought us to the top of a stream bed descent. Unfortunately, due to the recent extreme dry weather the stream was dry but it was still a fun, loose rock descent.
Due to the quirkiness of this route another half hour's riding and another puncture brought us to within touching distance of where we'd already ridden and only five minutes away from the lunch stop pub. Tempting as the cider was we carried on down a fast, stepped farm track that got narrower, faster, rockier and steppier as it went down. Kat and Sharon opted to take the easier diversion and met up with us about 100 metres further on.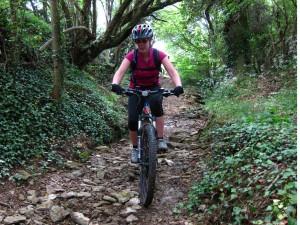 Another good climb through a field and past an ancient long barrow saw John get the day's fifth puncture. This gave the rest of us an opportunity to munch jaffa cakes and jelly beans. Yet another fun, rocky descent and we were nearly finished.
This is one of those rare rides that both starts and finishes with a climb. Luckily the route goes past The Fox and Badger and it would have been rude not to pop in for some hard earned refreshment.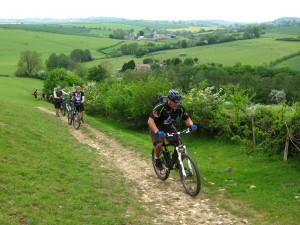 Outstanding performance of the day award goes to Kat Beeston for riding up hills that some of the more experienced riders (myself included) gave up on, although she was severely chastised for not providing the delicious home baked chocolate brownies we've come to expect. Special mention also to Sharon Yeates who enjoyed a more challenging ride than she's used to more than she thought she would.
This ride was billed as a sort of next step for those who see themselves as novice riders. Although our novice rides are a fantastic idea (long may MB Swindon continue to do them) the danger is you'll never improve your riding if that's all you do. We'll do this ride again sometime as I think it proved that the slightly more technical routes can still be fun ridden at a novice friendly pace and that stepping out of your comfort zone helps you gain confidence and get more fun out of your bike.
Thanks to Rafe Aldridge, Tom Stickland, Richard Barnett, Andy Matthews, Kat Beeston, Mike Jeffries, Sharon Yeates, Kristian Price and John (sorry, didn't get your last name but you know who you are) for making it such an enjoyable ride for me (Chris).
---
Map OS Map, GPX, Bing, Bikely. See www.bikehike.co.uk for a great way to create and view maps.