This was a mountain bike demo day organised by Hargroves Cycles and held at the Croft trail in Swindon.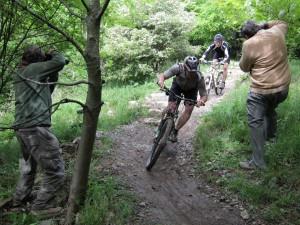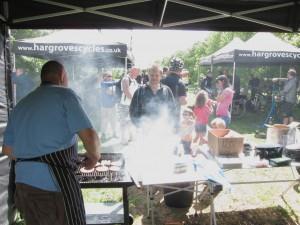 We'd had several dry weeks which had finally ended on the Friday night. Saturday night had seen a lot of rain too, so we were concerned that Sunday would be a wash out. It started out looking that way, but by 11am it had cleared up. We ended up with a dry day and the trail dried out quickly.
There were just under 30 bikes on hand for test rides in a variety of frame sizes. See the full list at the bottom of the page.
This was an opportunity to ride the trail, try some new bikes and to find out more about the club and mountain biking in the local area.
MBSwindon had the club gazebo set up with a barbeque on hand.
Highworth Camera club had a group of photographers around the trail capturing the action.
The two guys in the red and yellow Hargroves tops are Steve James and Andy Hargroves from the Hargroves race team. I had lap round the trail just before 10am with Andy who pushed me along nicely!
---
---
Demo bikes
Specialised

Camber Expert 2011
Enduro Expert 2011
Epic Elite 2011
SJ FSR Elite 2011

Scott

Scale 20
Scale 29 Pro (29″ wheels)
Spark 20
Genius 20
Contessa Spark RC

Cube

Stereo
Fritz
AMS 110
Hanz SL
Reaction GTC
Ltd Race
Reaction HPA
AMS WMS Comp
AMS Comp
---