When I left home on the morning of the 14th of July 2012, things outside did not look promising! The skies were black and it was hammering it down with rain. 'No one is going to turn up' I said to Sharon, 'yes they will, they always do' she replied.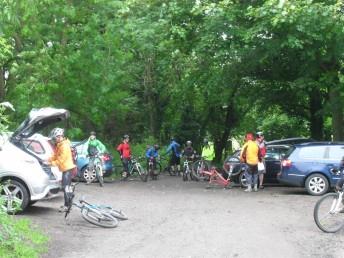 So away we went, rushing around like made so I wasn't late, went flying past the McDonalds at Shrivenham, to get 50yards down the road, to which Sharon chirped up 'don't we get to Fox Hill that way?' pointing back towards Shrivenham.  Expletive expletive expletive, but, hey ho, got time for a coffee now that we weren't heading to Barbury! (I don't know!?!?!?!)
We pulled up into the Fox Hill/Shepard's Rest car park to what seemed like reasonable weather and 3cars already there! (And that was at 9:30am!) I got the bikes out and organised (no change there!) and we waited for the rest of the group to arrive, which turned out to be 15 strong. Great mixture of current members, new members and non members (who hopefully are convinced and have since signed up), some who had travelled quite a significant distance on this cheery, rainy morning (Tony Holmes). Good to see Gary Lee out having just got back from Morzine, then driven to Plymouth and done 2412, and just fancied a casual ride. Richard Barnett who had equally done Morzine and then driven back and done the 5Peaks the weekend before (if you feel the need to donate to his sponsorship pages for Help For Heroes, I am sure it will be much appreciated). Pete Ratcliffe who doesn't seem to have ridden forever, and was also able to provide some skills guidance and confidence and encouragement to some members of the group who had a few slips and slides, so thanks Pete.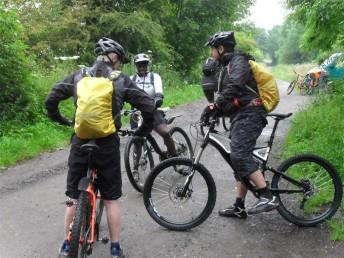 As you can see from some of the pics, it was definitely not an easy or dry ride, and there were numerous slides/crashes/otb/chalk water slide on belly/bottom sliding past riders moments from some of the group (hope the ribs are ok Phil) though thankfully no first aid needed.
There was also an incident with an out of control dog, who felt the need to try and round us up whilst we were riding, and owner didn't really make an attempt to control it, thankfully, the dog or the riders were not harmed by this, though a little shook up, so, dog walkers (I am one) if you cannot control your dog when it is off leash, please do not let it off!!!
The pace was set at the usual novice type pace, with regular stops when crossing roads and changing direction, though the route is really nice and straight forward, and although there were some climbs which sapped the leg energy somewhat, and a lot of mud which did entail some swift route changes,  the most technical part was probably the chalk decent back towards Fox Hill at White Horse Hill, (which I hear a lot of people quite enjoyed) with some humungous ruts, which some managed to float over gracefully to change direction, and some……. not so much!
The route was from Fox Hill – Wantage to the lovely little tea room at Court Hill. There is a large area outside for bikes to be laid down/leant up, and although the tea room is small, the selection of cakes,breakfasts,baps, rolls etc they have on offer is huge, and they were more than accommodating of us lot trudging in there covered in mud, so thank you to them.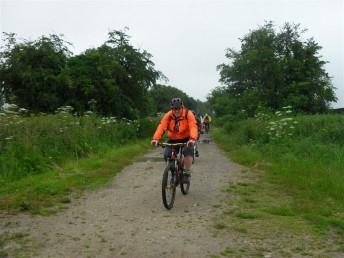 Feeling very full after a bacon sarnie and a piece of cake (which was huge) we set of back to Fox Hill.
It had stopped raining by now (though it had only been fine drizzle when it did rain) and as we progressed further along The Ridgeway, the trail and tracks seemed to be drying out really nicely.  There was lots of room on a lot of the route for people to cycle along in 2;'s and 3's so it was great opportunity for people who were and weren't members of the club to socialise and get to know each other, and hopefully, be a good first introduction for some.
I expected the route to take us around 5ish hours door to door, which it was including cake stop, so we managed a good pace. All in all, a really enjoyable days riding, a lot of fun in the mud, and a lot of bike washing needed after, but, it was worth it.
Great day MBSwindon, hopefully you enjoyed it as much as I did, and I hope to see you all on the next novice plus in August, but don't forget the usual novice rides, and the club rides, to which everyone is welcome to.
Nigel