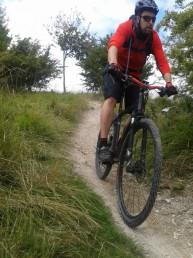 I had this idea: to try and do all my favourite bits in an area without going over the same ground twice. This proved more difficult than anticipated, but an evening with the OS map, a recce ride (which found some tracks impassable) and the route was sorted (route link is at the bottom of the article).
The previous days weather was bad, but it did not deter 13 other riders from turning up. Warm and cloudy was the days forecast and that is what we got.
We started with the first half of the Croft Trail, which was a new experience for 3 of our group. A great little skills session before hitting the tarmac and heading out through Broome Manor. The hill at Hodson proved a nice warm up for the first big hill, the tarmac climb up to Barbury Castle. Crunching gears, gritted teeth and a fair amount of sweat then ensued. It was a determined effort from all.
After a little rest we got moving again, popping off the lumps and bumps in the field across the top of the shooting school. This track never fails to raise a smile, and then the steep, loose S bend down to the byway. The next challenge was the radio mast climb, which is a favourite for some! We then took in some of the Ridgeway before I got the punctures started, with a pinch flat heading into Moore's Wood.
With the absence of Muddy Tom Scott, his apprentice bog rider Graham Burgess decided to show us how its done when we were confronted with some water to navigate. It was deep, muddy and a very wrong shade of brown. Unfortunately the foot deep puddle had about another foot of slurry at the bottom which made it very difficult, and Graham was soon paddling to get out of it. Good entertainment for the rest of us!
Lots of scenic double tracks between fields took us to the Rickety Bridge descent. This rooty track is a favourite among many, myself included.
We then headed through Ogbourne Maizey to Rockley for a little play on the rooty drop, with most having at least 2 goes at it. Before taking the sneaky singletrack that has been cut into the woods there.
By now we had covered a good distance and legs were getting tired. The climb out of Rockley past Four Mile Clump back to Barbury Castle felt brutal for some people and bikes alike. I think we had 4 separate punctures along this stretch alone.
After a stop at the shop in Alexandra Park for refreshments, we headed down Ladder Lane, before joining the Croft Trail where we left off. We finally finished our lap of Croft about 5 hours after we started it.
At around 30 miles, 2500ft of climbing plus the technical descents, it all adds up to a tiring day on the bike. But coupled with great company it means it was a very enjoyable day out.
Thank you to everyone who attended, it was great to see old friends and new faces alike. I look forward to riding with you all again soon.
 OS Map of the route.  GPX File of route, left click to save to your computer.