Words by Steffan James – Photos by Daniel Smee, Andrew Holland and Tom Scott
This ride offered a choice of two starting points: riders could start at Foxhill for a round trip of about 25 miles, or join the group as they passed White Horse Hill in Uffington for a 15 mile ride. Not content with this, five of the riders had cycled up from Swindon to add another 10 miles to the round trip! There were a couple of new faces, and our reputation as a relaxed club was confirmed by the arrival of one rider wearing slippers! (These thankfully disappeared before we set off.)
The weather was pretty good as we prepared to set off, although rain was forecast for later. I decided that I would pack my jacket, reasoning that it was bound to rain if I didn't.
The first couple of miles went by quite easily, until ride leader Tom Scott took us off the Ridgeway itself onto some nice singletrack through the adjacent woods. As we emerged from the second of these detours, Richard Heath pulled over with a puncture. Most of the group stopped (to stand and watch) as the puncture was repaired, while a handful decided that they would ride on to the White Horse and wait there.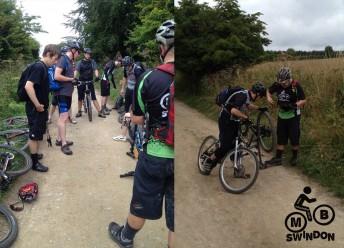 Once Richard was mobile, we set off again, only to find the advance group a few hundred yards ahead, waiting for Paul Allum to fix a puncture! This time most of the group rode ahead, and a couple of us waited with Paul. We couldn't believe our eyes when the group ahead of us stopped after about 30 seconds to fix yet another puncture! We rejoined the group to find Tom licking his inner tube. He assured us that he was trying to find the puncture, but no-one was convinced – he seemed to be enjoying it a bit too much! 
We finally arrived at Uffington to find one more rider waiting for us, and Tom rode up to the car park to check whether there was anyone else there. He didn't find any mountain bikers, but did return eating an ice cream.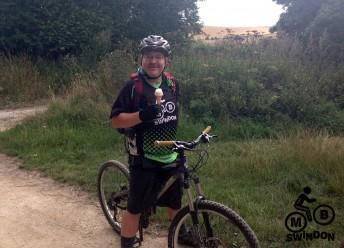 After the climb up White Horse Hill, we were on our way again. It was noticeable that there is hardly any level ground along this stretch of the Ridgeway, and the pattern of climb and descend became routine. The rain of the previous few days had also created a quite a few puddles, and quite a few of us indulged Tom by riding through them.
We finally arrived at the cafe near Wantage which was our halfway point, and as we sat in the courtyard munching our way through coffee cake, bread pudding and sponge cake, Tom decided it would be funny to take photos of his Lidl cereal bar. Who knows where he got such a ridiculous idea; it's certainly not the sort of behaviour one usually associates with MB Swindon!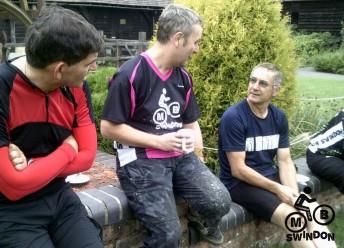 The return leg followed the same route, and the group immediately split in two; the 'breakaway' raced ahead, although the 'peloton' kept up a respectable pace, too. The weather had grown colder during our stop, and as we rode back a strong wind started to pick up, making the hills feel like even harder work. In the last couple of miles, this started to take its toll on a few tired legs, and the pace slowed, just as the rain started to come down (fortunately I had my jacket!).
However, we all made it back in one piece, and a final 'peep' of Tom's whistle declared the ride officially over. Thanks to Tom for leading the ride over a section of the Ridgeway that was new to many of us.
View the route: OS Map    GPX – right-click and select "Save As" to save to your computer