A Ride Less Ordinary
Words by Tim Norris (from his blog) / Photos by Daniel Smee and Kristian Price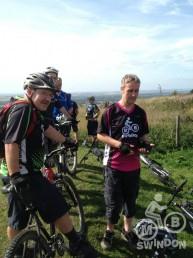 It was supposed to be a Novice Friendly ride. Richard Ford was leading his first ride for the club and was concerned that he wasn't going to deliver something that people would enjoy. The ride went via West Woods; this was going to be a ride people would remember!
The mysterious location somewhere along the Wansdyke, known as Knap Hill, had been the cause of some discussion on the run up to the ride – one person seemed to think it was a two and a half hour drive from Swindon! The stigma of getting lost, being the last one there and keeping everyone waiting meant that a few were cautiously early. None more so than myself, though – I had polled Facebook earlier in the week for estimates as to how long it would take me to ride the 12 miles to the start point, and got answers ranging from 45 mins to 2 hours! I arrived with 40 mins to faff about and 20 mins ahead of the next people, Nigel and Rafe.
By the time Richard arrived, the riders had gathered in their masses! MB Swindon Novice Friendly rides unsurprisingly attract new riders and this was no exception, with 4 first timers by my recollection out of a total of 26 for the ride. Eventually we all set off east toward Golden Ball Hill.
The pace was pretty good and the first bit of fun started as we descended towards Gopher Wood. The sudden braking as we all got a bit carried away and nearly missed the turning was the source of some amusement and the singletrack through Gopher Wood itself was so good some of us used the misfortune of someone's puncture to ride back and have another go!
The scenery along the Mid Wilts Way can be breathtaking and we had perfect weather that gave us some blue sky but not too much sun. However, within a few minutes of the ride some riders were removing layers as the short climbs and grassy tracks helped to warm us up. My rule of thumb is that if I'm a warm in the car park then I have too many layers on; better to feel the breeze and be a little cooler in my experience. Once you start pedalling the body generates its own heat.

The ride continued on through some more singletrack past Oare Hill and onto Martinsell. We stopped for a breather, trail snacks and to take in the 270 degree view from the edge of the hill fort.
A grassy descent down to the road from the fort dropped us around 60 metres and we all enjoyed racing down the hill. The race continued for some along the road to Clench Common and then we got into single file and hit the short stretch of road before heading into West Woods.
It didn't take long for the laughter to start. No sooner were we in the woods than we came upon an obstacle that caused a bit of a hold up. It was nothing serious, just a branch across a narrow bit of the track. Just the other side were some ruts and low hanging branches. It really wasn't anything that required a mass of skill but it caught a few out and even "the housewives' favourite" and king of the Novice Rides had a little sit down in the bushes! Proof that inconspicuous trail obstacles can unbalance a rider with years of experience.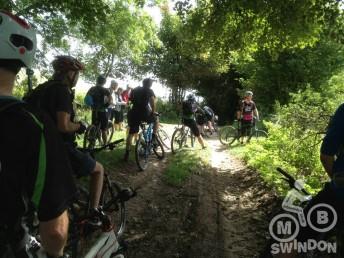 Anyway, we were now in the West Woods and it was play time. The short down hill runs here are great fun, and there was something for everyone. A bunch of us rode down a few, some slower than others and a few decided to watch from a safe distance as this little diversion was a little more than they bargained for on this ride. Unfortunately – and I will take some of the blame – the little party lasted longer than it should have and at one point we were being hunted down by some of the more sensible members of the group and told it was time to leave. This wasn't before Phil Allum went over "the big wooden jump" – check the video evidence (though it was a lot more scary than the GoPro recorded.)
One final bit of fun in the woods resulted in a puncture or two as we rode fast and straight down a particularly loose bridle path – pinch flats on the large loose rocks was the only explanation we came up with.
This brought about the end of the fun and it was truly undone by the nettles. We rode a long the edge of the forest back to Gopher Wood through and endless trail of nettles and brambles. Those who had removed long sleeves and coats earlier on the ride wished they had kept them on as we battled stinging undergrowth that was right up to the arms and even the shoulders of most of the riders. A frantic hunt for dock leaves and thorough rubbing session followed for those that had been stung worst or had particular reactions to the toxins.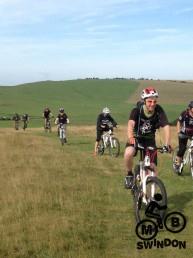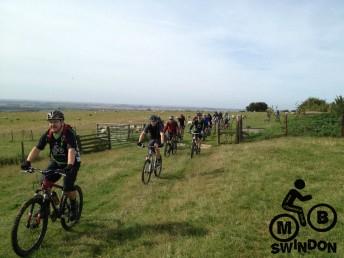 Still tingling and with many tiring from what had been quite an adventurous and eventful Novice ride, we made our way back to the start point and car park at Knap Hill. A few of us made the short steep climb up Knap Hill itself to provide us with a blast down to the car park and one unfortunate rider got another puncture at the gate at near Knap Hill and had to push the last few hundred meters to the cars.
It was a long ride, considering the distance was only 12 miles or so. But a group of 26, including a few big kids, can be tough to manage and keep on track. Richard did a great job and with the help of Tom Scott's whistle we all stayed together and arrived safely back at the car park. Richard Ford will lead another ride one day, as this was a resounding success: we found some new singletrack, many were introduced to the wonders of the West Woods, but most of all and above all else, he will do it again because, "No one died…"
 View the route: OS Map    GPX – right-click and select "Save As" to save to your computer
You can read more of Tim's MTB adventures here.