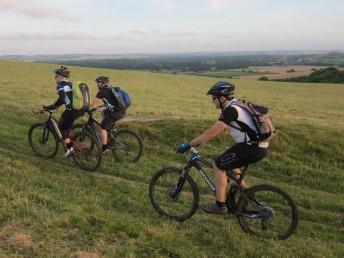 Richard Ford is going to lead this non-epic ride that takes in epic views of the Vale of Pewsey from Goldenball Hill and Martinsell. Along with some non-technical woodland trails (all bridleways) in Gopher and West Woods. The ride will be at a leisurely pace (as the ride leader says he can't go any faster).
Directions from Swindon.
Take the A4361 to Avebury.
At the right bend in the road (after the Red Lion Pub) turn left to take the B4003
The B4003 comes to a T junction with the A4.  Turn left.
Take the next right (after about ¼ mile).  Sign posted East Kennet.
Drive through East Kennet and follow the road to a T junction.
Turn right at the T junction.
Follow the road for two miles.  The car park is on the left just after three houses on the right.  Be careful, it is rather difficult to see until you are right on top of it and quite easy to drive past.  If you start going down the hill into the Vale of Pewsey you have gone too far.