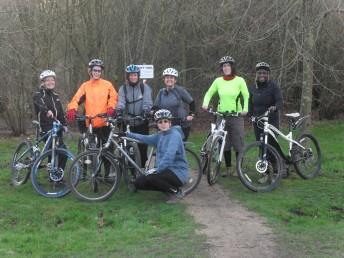 For yet another ladies day, the weather proved glorious for us (Whoop whoop! and thankyou weather gods!). See these great photos from the November ride.
Nice turn out at the Croft Trail for the first one of the year (Sarah, Sarah, Natasha, Kat, Hana, Lorna  plus Jen and Jodie who were not riding for obvious reasons (babies) but thank-you for the pics).
We started off by doing a nice, casual lap of the trail, taking on some of the lovely scenery and the obstacles!
The second lap came pretty soon after the first with little break and a little more speed requested! We zoomed round in good time ready for our well earned cake break (standard procedure!!!!! :-))
We snuck into the new section (Shhhhhhh don't tell anyone!) and had a nice ride around the newly surfaced trail (which by the way builders, you have done an ace job on that section!), and then we got to the part that everyone is apprehensive about………… the wood! Every single lady today tackled the whole length of the wood!!!!!!!!…..;-)………………………. and some brave soles actually did a grand job of riding it too (Lorna and Hana!!!!!)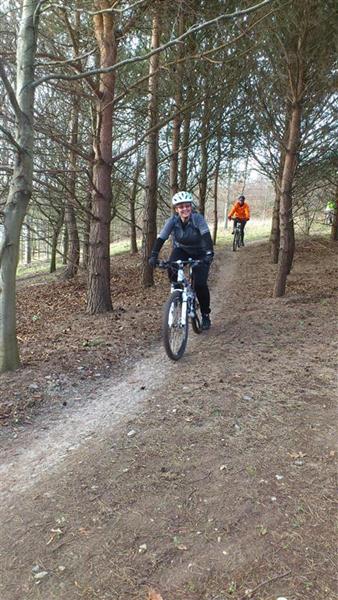 A few sideways glances with trees, and a few detours off the side didn't deter and pretty soon they were riding it like pro's!!!!!! We finished that section on the lovely, tight, downhill, no room for error exit (again………….. thankyou builders) which caught a few of us out, but on the second lap everyone zipped straight round.
A couple had to skip off for their sunday roast, so those that were left, snuck in another lap before it got too dark.
No major crashes, no injuries, lots of fun!!!!!
There were a few of us who got to know trees/shrubs/trail surface a little better than we may have liked, but hopefully a good afternoon had by all.
The next Ladies day is on the 26th Feb at Ashton Court/Leigh Woods. 11am start. It would be great to see you all and thank you for a lovely ride today
Thankyou also to Jen and Jody for coming along and getting some nice snaps for us and coming to support us, to Nigel for coming along to fix our punctures (unfortunately it was just his bike that got a puncture!!! :-[) and also for making sure we were all safe and well, and to Phil, who………………………. came for cake!!!!!!!!!!!!
See you all soon
Sharon