Return to three trails article.
---
Friday 24th Sept 2010 – Kielder
Kielder is heavily promoted on the Visit Northumberland Website as a premium mountain bike location. When I arrived at the castle car park I was a bit confused to find no reference to the Lonesome Pine trail. There was plenty of information about the skills loop and the Deadwater trails though. I asked in the Purple Mountain bike shop where they were very helpful.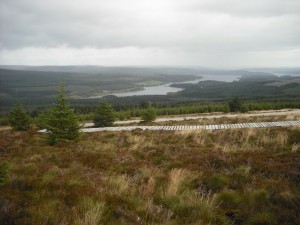 The Lonesome Pine trail is not signposted at all from the car park but it was easy enough to find using the map I'd printed out before hand. The early parts of the trail follow the path along the edge of the reservoir. This really needs some sign posts.
After a mile or so of flat and wide trail I reached the start of the proper trail. This was a singletrack climb with quite a lumpy surface. This then reached some fire road with one of the most confusing signs I've seen yet. It said something like
"you now have 2 choices. Go left to go along a track and then climb a steep climb to rejoin the red trail, or to join to the w2w trail. Go right to join back onto the red trail via some track and a moderate climb and some trail."
I think they meant "left: steep option. Right: main trail".
I took a guess and then followed a lot of fire road. Up, along, up some more, and then down. Fire road heaven. I was mouthing obscenities by the time something interesting happened. This was a steep climb up to the Stairway to Heaven section. This is a wide and long wooden section to the summit. Here was another confusing sign. This time giving me the option to do a loop back to the sign, do a 44km loop round Newcastleon, or a trip to the Scottish border. It would be a lot more useful to have this information to hand before doing the ride.
The trail was then singletrack descent back to Kielder. This was alright; I found the suface oddly lumpy and never really got a decent flow going.
Lonesome Pine Trail 20km.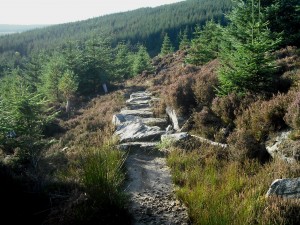 The Deadwater Trail is a more technical trail and provided more entertainment right from the start. There were a lot more optional lines on rocks and roots. The sign posting was better apart from one which said something like "now listen up and read this carefully. You can now either follow the trail down a technical section or by carefully following some tape and markers you can reconnect back onto the trail again avoiding some very technical parts." I think they meant "left: difficult. Right: short cut.".
I gave the technical section a go, and fair enough it was quite extreme. At the bottom I guessed and ended up on an escape route, so ended up doing the section again. Which was fine by me.
There followed a really good technical single track ascent, something I really liked. After that I did the climb to Deadwater summit. This was a long haul up a big track. It then descends right back to a crossing point, so you can avoid it. The rest of the trail was good, with some nice flow down and a lot of tricky rocks to ride up. I didn't try the Black grade decent option.
At the bottom I had a quick ride round some of the skills loop. This is worth a visit.
Deadwater Trail15km
Return to three trails article.
Return to three trails article.
---