Return to three trails article
---
Sunday 26th Sept 2010 – Gisburn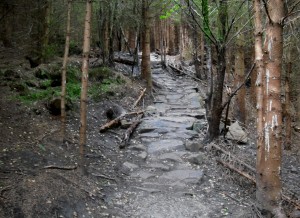 I'd known about the volunteer built trails at Gisburn for a long time, via their facebook page.
"The 8" is an 18km Red and Black grade trail in the Forest of Bowland.
When I arrived at the Cocklet Hill car park at around 10:30am it was rammed full. The trail is clearly popular.
Not much happened at first; a bit of wide path, a bit of road on the bridge over the Stocks Reservoir, then a climb up some fire road.
Then the trail peeled off into the woods on some really good, tight single track. Rocks, logs, roots, berms, tight gaps; great stuff. Towards the end of the section there was an intimidating descent down slimey looking rocks tight in the trees
This was followed by a big climb up a wide track. Some volunteers were working on a new section of singletrack climb and I stopped to say hello. Not for too long though.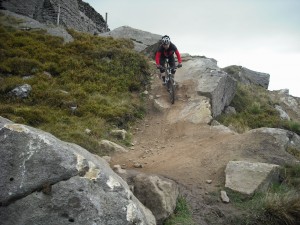 After that the serious business began. A clever climb up a set of big boulders in a quarry and then some really steep single track snaking up the hill and a long section of woodwork. It's great to have some proper uphill technical stuff – it gets harder and harder as it moves up to Whelpstone crag. There's a fun ramp off some large rocks near the top, plus a scary looking optional big ramp off the highest point. The surface was really rocky in some areas. Not smooth gravel like some trails.
Hully Gully goes down a gully and uses the side as berms. Graded Black but fine if you're prepared to go with the bike.
Following that a nice set of moutain cross country, finishing with a tricky section with one ground level log and then 2 waist high skinny poles to ride. I opted out of this.
The last quarter of The 8 is back to shared Blue trail. It's still quite fun but you feel that the best is over.
I liked the trail so much that I did it twice. It took about 2 hours per lap.
Return to three trails article

Photos also on Flickr
.
Return to three trails article
---