Words and Photos by Gary Yeates
A grand total of eight of us met up at the Ellendune car park, a mix of the 'old faithful' and a couple of riders (Mike and Daryl) who I hadn't ridden with before. We set off with little 'faffing' and headed along Wroughton High Street for our 'warm up' climb up the hill to the start of the ride proper at Elcombe.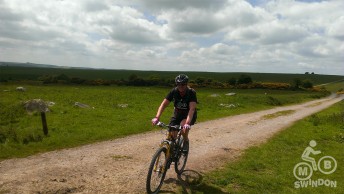 Blessed with a beautiful sunny day, we navigated the fallen branches and debris along the bridleways, through some very 'pedally' and energy sapping sections towards Broad Hinton. With the tracks being very dry and bumpy from lots of use by horse riders, the going was quite tough on this early section. I took the decision to allow the group a short rest (using the excuse of needing to ride ahead looking for the next gate to make sure that I hadn't missed a turn!).
We then rode through some seemingly never-ending long grass around the edge of the fields before reaching some hardpacked tracks, which brought a bit of relief. It was here that we had our comedy moment (which will be more appreciated by the long standing club regulars and Tom Stickland) as we had to navigate past a leaking 'shit pipe'!! The farmer was busy pumping silage along hundreds of metres of pipe that had a few inconveniently situated splits, which forced us to ride gingerly past/through a constant spray of horrible smelling liquid – the photos don't do it justice!!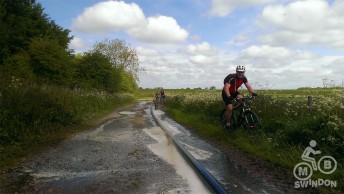 Once that was navigated, we had an event free ride along tracks and quiet country lanes to Yatesbury. A quick blast along a field-side single track had several members of the group taking an early 'snack' of flies and insects!!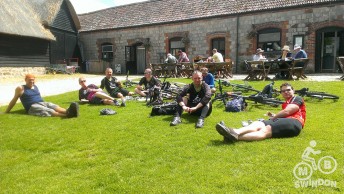 After our scheduled 'tea and cake' stop at Avebury (alas Graham – no sausage rolls!!) we climbed the hill up to the Ridgeway and, although Paul and Tom had to be back and were contemplating heading home from there, we convinced them to carry on as we were making good time. With Fyfield Down, Rockley and Four-Mile Clump conquered, we enjoyed a fast descent into Ogbourne Maizey where we picked up the Railway Path. Again, we persuaded Paul and Tom to continue with us up a steady climb to higher ground and a fun descent down the Earthline Track and into Ogbourne St. George. At this point, eight became five as Paul and Tom headed back home along the Railway Path, and Sharon's cramps meant she also wasn't able to join us for the final push up to the Shooting Club. With shots ringing out around us, we opted for the safer option of riding along the driveway rather than the 'clay pigeon' riddled bridleway through the crop field!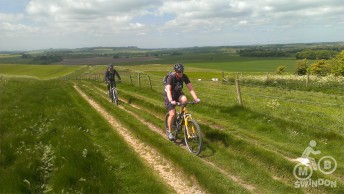 We then took the bridleways across from Barbury to Overtown and rode through the old part of Wroughton and back to the car park to be reunited with Sharon, who had ridden through the pain barrier to get back!
All in all, it was a great ride on a lovely day with a really nice group and everyone said they enjoyed it.